The Best Summer Lipstick Shades For Every Skin Tone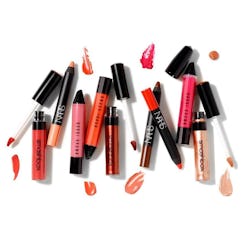 Maybe it's just us, but aside from pool parties, beach days and fabulous vacations, our favorite part of summer is finally being able to break out all of the color—starting with our lipstick. Since we know we can't possibly be the only ones going for a bright pout this season, we're sharing our favorites for every skin tone to make your next shopping trip a success. Ahead, the prettiest lip colors to get you on trend this summer.
Lipsticks with orange or blue in them complement the cool undertones in your fair skin. Anything too dark or red can create a harsh contrast and make you look extra pale. Instead, seek out tangerine red, cotton-candy pink and raspberry shades.
Stay away from shades with blue or gray undertones, like lavender. Pinkish red and rosy nude lipsticks are best suited for light-medium complexions.
The most versatile skin tone looks great with almost every shade—particularly warm ones, which make your complexion glow.
Deep-medium skin tones look gorgeous with true reds and berry burgundies. Avoid ashy tones, which can make dark caramel complexions look washed out.
Accent cool skin with a lipstick that has subtle blue undertones—this goes for everything from pretty pastels to deep plums.