Here's What The New Urban Decay Moondust Palette Looks Like On 4 Skin Tones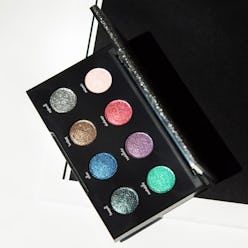 Urban Decay Moondust eyeshadows are legendary among the brand's fans. They are so glittery, so smooth, and so perfect for a shimmery look that doesn't get glitter all over your face. Well UD fans, start breathing into those paper bags and try not to hyperventilate: Urban Decay is releasing a Moondust Eyeshadow Palette.
Still breathing? Good. Here are the details: The palette contains eight Moondust shadows in a variety of colors. It's pretty stunning, but it gets even better. All of the shadows are brand new Moondust shades, no duplicates from your Moondust hoard.
On the top left, we have Spectar, a light peach pink, then a fiery red with an opalescent effect called Element—it looks like an actual space gem, probably from Mars. The next shade, Magnetic, is a light purple that doesn't hold back with its vibrancy, followed by Lightyear, one of the most saturated greens we've ever seen. The bottom row is where things get really interesting. All the way to the right on the bottom there's Granite, a deep silver that's perfect for a festive night out. Next to it is Lithium, a shiny gold that will look insanely good with some black liner. Vega is a bright electric blue that adds a nice jolt to the palette. And finally, all the way to the left is Galaxy, probably our favorite color out of the entire palette. The glittery blue-gray shade will make for one of the most unique smoky eyes ever.
To see what the colors look like on four Allure editors' skin tones, check out the full article here.
By Renee Jacques, Allure Associate Digital Editor