6 Halloween Makeup Ideas We're Stealing From Pinterest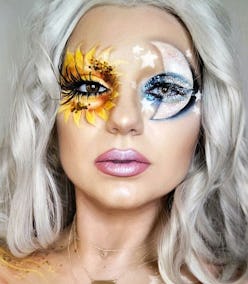 Pinterest is the mecca for all things inspiration-inducing, and Halloween costumes are no exception. We scoured the idea hub for the coolest makeup looks you can re-create for all your spooky soirees next month. From a mermaid to an actual work of art, these are the faces you'll want to wear.
Mother Nature
The Makeup: We're loving this nature-inspired makeup composition as a halloween costume. Paint one eye with a sun and add glitter for shine; paint a moon over the other eye and accent with stars. Different colored contact lenses add to the effect.
The Outfit: To allow your makeup to take center stage, pair it with a simple nude-colored dress. Or, if you want to get super creative, cut two of the same dresses (one in yellow, the other in blue) right down the middle and sew them together to add to the half-and-half look.
Ice Queen
The Makeup: If you love glitter but don't ever have an excuse to wear it, here's your chance. To get this Ice Queen makeup look, mix white face paint with your go-to foundation; apply it to your face and blend down to your neck. Contour with blue eye shadow and fill in lips with a holographic lipstick. Pile the glitter onto your eyes (including glitter mascara) and add faux icicles for more drama.
The Outfit: Anything light blue, white, silver sequined, glittery or iridescent would work. The hard part will be choosing your favorite.
The Galaxy
The Makeup: When in doubt, just be the entire galaxy. Create an ombré effect by blending together shades of pink, blue and purple cream shadows, then use white eyeliner to create stars and constellations.
The Outfit: Anything covered in a galaxy print would be a cute way to round out the theme, but a little black dress could work just as well.
Marble Statue
The Makeup: It's no secret that marble is having a moment, so why not get creative with the trendy print? Turn stone-faced with white face paint and a gray eyeliner pencil, then add accents of gold that tie into the other side of your visage.
The Outfit: Got a white dress? You've got yourself a costume.
Modern Art
The Makeup: Cover your face in geometric shapes to create a pattern. Use Halloween face paint or cream eye shadows to fill in and get the look.
The Outfit: What better to wear than a blank canvas? A white dress will let your countenance do the talking.
Mermaid
The Makeup: Apply a metallic blue shadow and pair with a turquoise lipstick. Embellish with glitter, rhinestones, seashells, anything.
The Outfit: There's literally no more appropriate time to wear a mermaid skirt. Complete the look with a sequined top and costume jewels.