15 Foundation Tips From Makeup Artists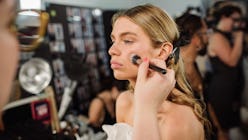 A seriously fine line exists between swiping on some foundation to make it like you #WokeUpLikeThis or ending up with streaky skin that could potentially pass off as more clown-like than anything else. To figure out how to apply our base better (BTW, these are our 2016 Best of Beauty base winners), we got 15 foundation tips from makeup artists that you need to copy and paste, print out, or write down ASAP. After following these tips, I went from being a mediocre-at-best base applier to a borderline pro, kid you not. (Can you see my foundation now?) So grab your pen (mouse?) and your Beautyblender (a must-have tool for many makeup artists below) for these tricks. These are the foundation tips from makeup artists that you absolutely cannot miss.
You might be using too much foundation.
"Your main focus should be using foundation more so on spots where [more coverage is] needed, like around the nose and eyes. Then, blend by dabbing (not rubbing!) with a Beautyblender to make your foundation one with your skin." —Azra Red, who works with Honey Artists
"By applying five dots of foundation—one each on your cheeks, forehead, chin, and neck—and distributing outward in circular motions using a foundation brush will give you a flawless result." —Ermahn Ospina, who's worked with Sarah Michelle Gellar, Carla Gugino, and Rosario Dawson
"Apply foundation sparingly—and only to the parts of the skin that need to be evened out. This way, you have some areas of the complexion more bare, which gives the overall look a more natural finish." —Molly R. Stern, who's worked with celebrities including Reese Witherspoon, Lily Collins, and Mandy Moore
Both oil and water are foundation's friends. (So adorable, right?)
"To achieve a glow-y look, start with your skin-care routine. I like to use a face oil before I prime the skin, and then I follow with foundation." —Matin, who's worked with Claire Danes, Lena Dunham, and Tracee Ellis Ross
"Mix water into foundation right before application. It adds moisture without any excess oil and makes the skin look even more radiant." —Rebecca Restrepo, who's worked with Mandy Moore, America Ferrara, and Emily Blunt
"After applying foundation, spray a skin-soothing mist onto the large, flat side of a damp Beautyblender and press it into your skin all over to diffuse the look of 'makeup' and give you a very natural, hydrated complexion." —Michael Anthony, who's worked with Allison Williams, Tinashe, and Rita Ora
"Add foundation to your moisturizer if you want a lighter application, and in winter when your skin is really dry, I like to add a little bit of a superlight face oil to foundation, so I get coverage and hydrate my skin." —Fabiola, who's worked with Hilary Swank, Katie Holmes, and Jennifer Garner
Rethink your touch-ups.
"Instead of using setting powder for shine control touch-ups throughout the day, use blotting papers to avoid looking like you have too much makeup on." —Min Min Ma, who's worked with Zosia Mamet, Grimes, and Mia Wasikowska
"Rather than reapplying in the afternoon, try freshening up makeup throughout the day with a spritz of toner—I use Allies of Skin Molecular Saviour Toner Mist. This reactivates the pigments in foundation and leaves the skin feeling hydrated, fresh, and glowing—not to mention making foundation look fresh." —Aidan Keogh, who is part of Honey Artists
"Keep the shine down the center of your nose and on the apples of your cheeks when brushing on setting powder or using blotting papers so skin still looks like [actual] skin." —Suzy Gerstein, who's worked with St. Vincent and Camilla Belle
Unlike eating at the dinner table with Mom, you have permission to use your hands.
"Use the natural warmth that emanates from your fingers to help diffuse the product, taking special care to blend well on the chin and jawline, as well as down the nose. Here is where Beautyblender (or any great blending sponge) is your best friend, as it really pushes the product into the skin and erases any 'makeup-y' texture—a telltale sign of badly applied foundation." —Gerstein
"I like to apply foundation with my hands to help warm it up, press it into skin, and into the contours of the skin. I usually go in a outward and circular motions. Then, I fine-tune any additional blending with a clean foundation brush." —Joseph Carrillo, who's worked with Alexa Chung, Portia Doubleday, and Lily Rabe
"I love starting with a sheer, lightweight foundation, blended all over, and massaging into my face with my fingertips. This way, all the product is being blended into your skin and not being eaten up by your sponge or brush. This should give you a smooth veil of coverage, eliminating any redness or unevenness." —Joey Camasta, director of makeup artistry at Ready to Wear Beauty
And as always, the miscellaneous.
"Unless you have dry or mature skin, I recommend distributing day cream more on the cheek area than in the t-zone to avoid unwanted mid-day shine post-foundation application." —Ma
"I always contour because a solid base often looks flat. Using a foundation about three shades darker than your usual formula as a contour helps refine, resculpt, add warmth, and define. I like to warm up the hairline, temples, and under the natural contour of the cheekbones with this darker shade. " —Carrillo
Check out the original article on Allure.
By Devon Abelman, Associate Digital Editor.