Rachel Zoe's Latest And Greatest Beauty Obsessions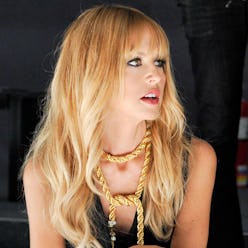 Our EIC knows more than fashion: We also look to her for the new, fab beauty products on the market. While we already know she has impeccable taste, what we love more than anything is her combination of affordable picks and luxury buys. No matter what your budget, you'll want to shop her latest obsessions pronto.
Eyeliner
"Always dramatic and never smudges - it's everything."
Foundation
"I am obsessed with this foundation. It has protective SPF yet still feels weightless on my skin."
Eye Shadow
"I love the gorgeous jewel tones of Charlotte Tilbury's shadow sticks - black diamonds is my go-to for the perfect smokey eye."
Face Oil
"This Maracuja rollerball is my new obsession - it brightens and hydrates...a definite favorite of mine!"
Serum
"I can't get enough of this elixir...it's softening, it's hydrating, it's so MAJ."
Mascara
"Charlotte is one of the best at creating a dramatic eye - her Fat Lash mascara is like velvet...so luxurious."
Nail Polish
"I always love a rich red nail shade. It's always timeless and goes with any ensemble."
Perfume
"Tom Ford's Santa Blush perfume is one of my absolute favorites- it's the perfect blend."
Lipstick
"A red lip is like the ultimate accessory and I love the drama of Tom Ford's lip color in Bruised Plum."
Concealer
"This concealer is perfect for on-the-go coverage...I always have one in my bag."