Miranda Kerr's Must-Try Makeup Trick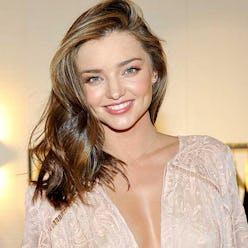 Since Miranda Kerr knows a thing or two about playing up her assets (thanks to her modeling career and super-successful skincare line), we're taking note of the trick she uses to make her blue eyes pop. By opting for a combination of makeup hues that both contrast and complement her baby blues, she cleverly enhances her natural eye color. Here, the products you need to try and why.
Photo: Getty Images
Pink Everything
A hint of soft pink on the lids, cheeks and lips is natural looking and subtle enough to let your eyes take center stage. Keep your foundation dewy for a fresh, summer look.
Purple Mascara
Swap out your go-to black mascara for a deep purple. The subtle update will bring out the undertones in eyes without looking too costumey.
Orange Blush
Since blue and orange are complementary colors, a blush in a tangerine shade warms up your face and makes your eyes look brighter.
Blue Eyeliner
Wearing a deep blue eyeliner not only makes your irises pop, it also makes the whites of your eyes appear brighter. For your next GNO, try a sapphire cat eye on for size.