LoveShackFancy's First Fragrance Collection Was Made To Celebrate Every Version Of You
Just get them all, honestly.
Courtesy of LoveShackFancy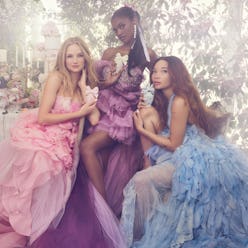 We may receive a portion of sales if you purchase a product through a link in this article.
When a fashion brand has the sort of distinct, immediately-recognizable aesthetic — like the one founder Rebecca Hessel Cohen created for LoveShackFancy — there's no stopping at just garments. A fully fleshed-out vision and its devoted audience can translate into all sorts of different markets, including home decor and mass-market collaborations. But the latest move from the hyperfeminine fashion house might just be the most genius tie-in yet. LoveShackFancy's new fragrances are a trio of three totally unique scent profiles, but still so harmonious and blendable. If your social media feeds have been inundated by all the different trending "[insert fruit here] girls" you can be any any given time, LSF's just-launched fragrances has something for every facet of your personality on any given day.
Released just in time for the brand's 10th anniversary, the three perfumes are available online and at LSF retail stores, as well as through Sephora as part of an exclusive partnership. Housed in pleasingly hefty, floral-patterned covered ceramic bottles topped with signature oversized LoveShackFancy bows (they look more like marzipan that high-quality plastic), each scent is designed to represent assorted feelings and personality types. "LoveShackFancy Beauty's debut fragrance collection tells the story of the brand's beginnings, its eternal optimism and floral foundation, and its very bright and beautiful future," Hessel Cohen explains in a press release celebrating the announcement.
Forever In Love, its packaging all in shades of soft candy-pink, evokes the clean, floral fragrance of just-cut flowers thanks to fresh notes of gardenia, rose, green pear, and cedarwood. Those who love slicked buns and crisp white shirts will naturally gravitate toward this one.
Meanwhile, the white bottle, Moondance, is made for those my-life's-a-movie main character moments made from a warm, invigorating blend of magnolia, blackcurrant, velvet rose, and oakmoss. If you have a big life event on the horizon, make this your signature — its powerful bouquet will help seal in the memories.
Finally, for the consummate cool-girls out there, there's baby-blue Bohème. Peonies, jasmine, white amber, and sandalwood create tremendous depth, conferring more than a little outdoorsy whimsy. Perhaps the most unexpected scent in the collection, it wouldn't be a shock if this one sold out first.
As LoveShackFancy makes its first foray into beauty, keep an eye out for further expansion. If this initial drop is this dreamy, can you even imagine what Hessel Cohen might cook up in the cosmetic category? In the meantime, shop all three fragrances down below — they're even available in mini-sizes.