L'Oreal Sells One Tube Of This Exact Mascara Every 5 Seconds
Courtesy of brand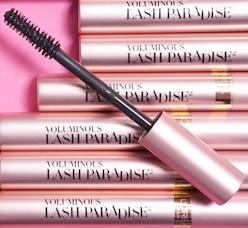 Cult Status is our series that highlights an iconic item from brands both established and buzz-worthy. In these features, you'll discover the fascinating history of how one extra-special piece exceeded expectations and became a forever product. This time, the focus is on L'Oreal Lash Paradise Mascara.
When it comes to mascara, everyone's got their favorite — almost in a territorial sense. It can get borderline competitive when sizing up top formulas among friends. There are those that swear by dynamite splurges defending why they're worth every penny of their $36 price tag. And those that stand by their drugstore steals, which deliver the same fanned flutter for a fraction of the cost. No matter where you fall on the mascara-budget spectrum, there is one formula that stands in a league of its own that you can agree to agree upon. The name is L'Oreal Lash Paradise mascara, and here's why one tube is sold every five seconds in the United States, the brand reveals to TZR.
The name is admittedly cheesy, but one swipe of the wand and you'd quickly see past it. The drugstore favorite first debuted in May 2017 and was quite literally the launch heard around the internet.
"We worked tremendously hard with our L'Oreal Labs to create a unique mascara formula that would provide quick and immediate volume, intense length, and soft, full lashes," Vice President of product development for L'Oréal Paris, Orrea Light, shares with TZR. It's clear the brand took notes from what the greater lash-wearing community has always loved about the original classic, L'Oreal Voluminous Original Mascara, namely it's mega volume results sans the clumps, and upped the ante. The triple threat Lash Paradise formula delivers comparable volume with zero clumps, with the added bonus of impressive length, lift, and beautifully combed flutter that still maintain a degree of softness that make lashes feel healthy and conditioned.
More than two years since inception, it's maintained its best-selling claim, ranking as the number drugstore mascara based on purchase intent according to Cherry Pick's monthly social reports. The same report which consistently reveals Lash Paradise in the top three L'Oreal Paris products sold period (trailing the brand's coveted Infallible Fresh Wear Foundation and Les Macarons Pro Matte Liquid Lipsticks). It's also the same formula whose sales catapulted by 2,000% (yes, you read that correctly — 2,000%, the brand shares with TZR), when the already steal-worthy price dropped from $9.99 to $8 during Amazon Prime Day deals. So, yes, the love is very, very real and here's why.
In case you're slow on the uptake, there's a reason — scratch that — there's several reasons, why people continue to freak out over this beloved formula and more than 20,000 people have gone public with glowing reviews sprinkled over the internet. That reason is simple. It works. Really, really well. Oh, and it's really stinking pretty. The vanity worthy, slim matte rose gold tube is reminiscent of another cult favorite tube, Too Faced Better Than Sex Mascara, but costs about a third of the price. The bushy brush is packed with over 200 soft wavy bristles that catch, comb, and coat the tiniest lashes you didn't even know you had, creating a full fringe effect that is instantly eye-catching.
Then there's the silky formula. It's more waxy than inky, which helps gently comb through lashes for a dramatic lengthening and noticeable lift-curl effect, but also keeps lashes soft and feathery, instead of stiff and crunchy. And while the original formula is not pegged water or sweat-proof (they have a separate Lash Paradise Waterproof version that delivers on that promise), I can attest there was not a smudge nor lash out of place post my intensely sweaty Grit Boxing workout in New York City. And in case you're left questioning the intensity of my workout routine (in which case I'm personally offended, but respect your skepticism), maybe the fact that it's the same mascara that held up during Beyoncé's two hour, 26-song long 2018 Coachella performance, will help to drive home that point.
There are favorite mascaras that the greater beauty universe swears by, and then there's Lash Paradise which has as army of loyal followers amounting to over 15.5 million tubes sold since launch, the brand tells TZR. Fun fact: that doesn't even include sales from Ulta, Amazon, Costco, Sams Club and other non-measured channels outside the Nielsen sales report, the brand shared with TZR, so the real number is likely millions more. But the fandom spans well beyond the everyday beauty lover. Beauty experts like Sir John, makeup artist to the stars, have openly confessed his love for Lash Paradise. "It's a one-stop shop for me and practically the only mascara I use," the L'Oréal Paris Celebrity Makeup Artist tells TZR. "I use it so much I should carry it on my keychain. The brush creatives massive volume without clumps while still keeping the look sophisticated. The formula provides full coverage saving yourself time — three coats in one. It is also a good accessory to compliment individual lashes."
It's no surprise the formula has racked up 11 beauty magazine awards, including Allure's 2018 Reader's Choice Award, Instyle's Best New Beauty Products of the Year, and Marie Claire's Prix d'Excellence de la Beauté 2018 global beauty awards. Being the mascara snob that I admittedly am, I put it through a test of my own, wearing it alongside my forever favorite formula which has firmly held its place in my starting lineup for years now — Benefit They're Real. Lash Paradise was an instant contender from first swipe, but even when taken to a blind vote among friends who were asked to vote on the better "flutter effect" it was a unanimous win in favor of Lash Paradise. And if the brand's claims are true (and I'm doing my math right), about 50 people have jumped on the Lash Paradise bandwagon since you've started this article. All aboard?