This Liquid Blush Upgraded My Entire Makeup Routine
Samantha Scott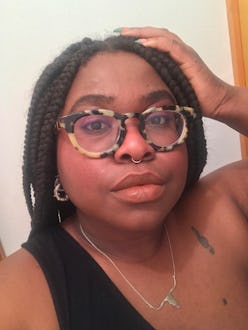 We may receive a portion of sales if you purchase a product through a link in this article.
When I started wearing makeup in the late-aughts and early 2010s, the blush pickings were slim. Many of the options available to me weren't made with dark skin in mind, so I was often left looking ashy. That is, if the shades showed up on my skin at all. Nevertheless, I persisted. My first go-to was a chalky rose shade I "borrowed" from my mom. Eventually, with the help of Beauty YouTube, I upgraded to a Milani baked blush touted by vloggers as a dupe for NARS Orgasm. While this blush was perfectly fine, discovering the wonders of liquid blush completely transformed my makeup routine.
Blush went from a product I threw on to keep my face from looking flat and one-dimensional to a central part of my makeup looks. Now, I apply it generously, using the now-viral "W" pattern for a full flush. Like the powder blushes I first used, liquid formulas have also evolved. Now, there are a number of formulas appropriately pigmented and available in shades the cater to a wide range of skin tones.
Along with many millennials, I was introduced to the category via Glossier Cloud Paint. And to this day, Haze and Dawn continue to be my holy grail shades. I also recently tried Rare Beauty's Soft Pinch Liquid Blush and finally get the hype. These products add a pop of complementary color to my cheeks, and I can easily build them up for the bolder finish I like.
Get into my favorite liquid and cream blushes, along with the other goodies I use to make my favorite beauty product really pop.