NAD+ Is The Buzziest New Thing In Wellness — Here's How To Try It In Skin Care Form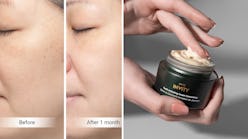 We may receive a portion of sales if you purchase a product through a link in this article.
If you consider yourself to be in the know when it comes to skin care, there's a new, science-backed brand to have on your radar: Invity. The vegan and cruelty-free brand originally began as a line of supplements that focused on addressing signs of aging and overall well-being via plant-based ingredients and nutrition. Following those same commitments, Invity has since introduced topical products into its lineup, creating skin care formulas that are proven to be efficacious, sustainable, and safe for all skin types. Of Invity's four topical products, the Youth Activating Cream Concentrate, $89, is the product you should opt for if you're interested in giving the brand a try — and if you buy two products at a time, you'll receive 25% off with the promo code CC25. Ahead, you'll find all of the details of the moisturizer, as well as a brief look into how its key ingredients work.
A Little Bit Of (But Not Too Much) Science
You don't have to be a cosmetic chemist to appreciate the research behind Invity's skin care products, which all feature NAD+, a form of niacinamide that helps our skin cells function better. You're probably already familiar with niacinamide in skin care, which is known to be a gentle, multi-tasking ingredient that targets seemingly every skin concern imaginable. In the body, niacinamide converts to NMN (nicotinamide mononucleotide) before being converted to NAD+ (nicotinamide adenine dinucleotide), a coenzyme that naturally occurs in our bodies.
As we age, NAD+ levels start to decrease, and Invity's research has shown that even when applied topically, NAD+ can help improve skin concerns that result from internal and external cell damage. Chief among its many benefits is NAD+'s ability to repair DNA that has been damaged by sun exposure. Skin damage caused by exposure to the sun is known as photoaging, and according to the Skin Cancer Foundation, it's responsible for 90% of the visible changes to our skin (not to mention, it increases your risk for developing skin cancer). Photoaging can impact your skin tone and texture, causing things like hyperpigmentation, redness, fine lines, and a loss of elasticity. In addition to repairing, NAD+ also has antioxidant benefits that help to prevent free radicals from causing cell damage in the first place.
Invity Youth Activating Cream Concentrate
A daily moisturizer is a skin care staple, and Invity's Youth Activating Cream Concentrate does some serious work. Ingredients like glycerin, mango seed butter, and vitamin E bring the moisturizing benefits that you would expect from a face cream, while bakuchiol serves as a plant-derived alternative to retinol to help speed up skin cell turnover, and tripeptide-29 helps to stimulate collagen production. Central to the moisturizer (and all of Invity's skin care products) is that DNA-repairing NAD+ we talked about earlier. To support NAD+'s cell-repairing and cell-protecting abilities, the cream also includes pterostilbene, a polyphenol found in plants that reduces skin aging caused by glycation, and fucoidan, a polysaccharide found in brown seaweeds that fights inflammation, helps to prevent water loss, and promotes a brighter complexion.
Those with sensitive or acne-prone skin types will be happy to know that the Youth Activating Cream Concentrate is formulated without mineral oils, parabens, phthalates, synthetic dyes, and synthetic fragrances. The brand advises that you'll get the best results by first warming the cream up between your fingertips and gently patting it onto clean skin. And you'll want to use this morning and night for at least 14 days before you can expect to notice any real improvement in your skin.
Try The Cream For Yourself