How To Choose Your Signature Fragrance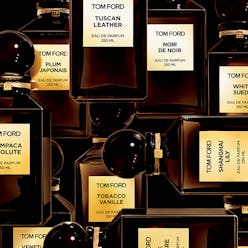 Finding your signature fragrance is as tedious as it is overwhelming—but believe us when we tell you it's worth it. A signature fragrance can create the difference between making an entrance and simply walking into a room. To find the fragrance you are soon to be known for, we tapped fragrance artisan and scent trendsetter Tom Ford for the best ways to lock down that perfect perfume. In case you were wondering, he has an arsenal of rare ingredients all with high concentration, so you know these tips are going to be life-changing (and the scents long-lasting). Discover your personal favorite from a selection of 22 fragrances in 7 olfactive categories—naturally, we've shared our 4 top picks here. Besides, if your fragrance is an extension of your style and personality, it's time to give it the attention it deserves.
Your Fragrance Identity
Always Make A Unique Statement
If you are constantly on the hunt for all things personalized and/or monogrammed, a fragrance that incorporates sambac jasmine absolute—an ingredient never used before in perfumery—is sure to be as unique as you are. Among the 22 olfactive Tom Ford Fragrances (an impressive number for any perfume collection) and 7 categories, this one manages to stand out from the pack.
Capture Your Favorite Travel Memories
If you have a passion for travel like Tom Ford, this scent—that he describes as perfectly capturing the cool breezes, sparkling clear water and lush foliage of the Italian Rivera—is as worldly as you are. When deciding on a signature fragrance, go for exotic notes like Tunisian neroli, Italian bergamot and Sicilian lemon to remind you of all the beautiful places you've visited.
Try A Unisex Scent
Oud wood is one of the most rare, precious and expensive ingredients in Tom Ford's perfumer arsenal. Exotic rosewood and cardamom give a hint of a masculine smokiness, while tonka bean and amber add warmth. You'll love how the scent lingers all day, but you probably won't love your boyfriend borrowing it constantly.
Convey Your Complexity
Formulas that are expertly blended to portray top, middle and base notes allow your scents to evolve as the day goes on. Inspired by an English gentlemen's club, this fragrance fuses creamy tonka bean, vanilla, cocoa, dry fruit accords and sweet wood sap. This unlikely combination is the perfect fragrance for someone who is detail-oriented, much like Tom Ford himself.