How To Apply Fake Lashes In 3 Simple Steps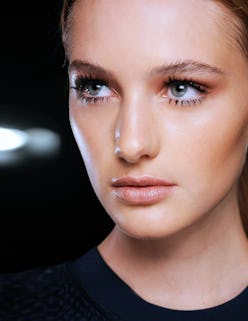 Do you spend hours standing at the bathroom mirror struggling to apply a pair of false eyelashes only to end up looking like a something out of a horror movie? If you're in the mood for full, fluttery lashes but not up to the daunting task of applying them, we have a few tried-and-true steps that might change your mind. Follow our tips for dramatic fringe sans the drama.
Don't get caught in a sticky situation. Follow our 3 easy steps for natural looking falsies.
Photo: Luca Cannonieri
Step 1: Prep
Keep in mind false eyelashes are not one-size-fits-all. Align the strip to your top lash line and trim evenly from both ends until you have a perfect fit.
Always curl lashes before applying a faux strip. Since fakes are already curled, this keeps a cohesive shape throughout for a more natural finish.
Trace above your lash line with a black liquid eyeliner to serve as a guide for where the strip should go (it also helps camouflage it).
Photo: Courtesy of Gucci
Step 2: Apply
Squeeze a drop of clear adhesive to the tip of your finger and grab your lashes with a pair of tweezers. Lightly dab glue onto the strip and let dry slightly before applying. If the glue is too wet, it won't be sticky, which may cause lashes to slide around.
Beginning at the outer corner of eyes, slowly place falsies as close to the lash line as possible. Pay extra attention to the ends to prevent them from becoming unstuck later.
Photo: Luca Cannonieri
Step 3: Finish
One coat of mascara fuses the false lashes to your natural ones for a seamless finish. Go for a lightweight, black mascara that won't weigh down lashes or make them clumpy.
Swipe your lash line with one final brush of liquid liner to fill in gaps and cover up any glue slips.
Photo: Courtesy of Dolce & Gabbana