You'll Be Blown Away With This Dryer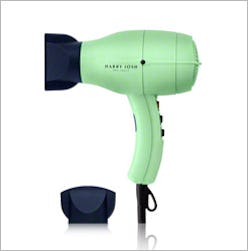 The pursuit of the perfect at-home blow-dry is closer than ever, thanks to the birth of pro stylist Harry Josh's eponymous gadget. Today, we drill the inventor himself to see what all of the fuss is about!
Q: When did you first decide to design a blow dryer of your own?
"I've always been on the hunt for a dryer that satisfied all of my needs. There are other great dryers on the market, but each one had something missing that I really felt was important – when Dermstore approached me, I couldn't wait to get started."
Q: Tell us a little bit about your dryer.
"It's light, it's powerful, it's energy efficient—it's handmade in France! $300 is pricy, but think of it as a couture hair dryer. Every aspect of it is luxe, from the features (like the on/off ion switch), to the materials (like the expensive wiring). I didn't skimp on a thing."
Q: What is your favorite feature/aspect of your eponymous tool?
"I happen to love the cool shot – many dryers boast this function, but it's just air that's NOT hot. The air that comes out of this dryer is truly cool, giving your blowout extra shine and eliminating frizz."
Q: How did you decide on the mint green color?
"I wanted something chic that still stood out – I love the matte, minty green. But when you see it in someone's hands, it's distinctly mine."
Q: What products do you find best pair with your dryer – both for a sleek/straight style and more voluminous?
"For a sleek, straight look, turn the ion button ON and try a frizz-fighting serum like John Frieda Frizz-Ease Thermal Hair Serum. For a voluminous look, turn the ion button OFF and after you blowout hair, spritz your roots with a dry shampoo – I like Serge Normant's."
Q: Any other blow dry tips/tricks?
"Don't rush your blowout! Do it in sections and ensure each piece is perfectly dry. Women are capable of creating a salon-worthy blowout so long as they have the right tools and they take their time!"
Q: Do you have plans to expand and create more hair tools?
"I do! Stay tuned to see what comes next – you'll see another addition to the line later this year."
Availability: Harry Josh Pro Dryer 2000 ($300).