These Haircuts And Color Trends Are Going To Be Huge This Spring
Antonello Trio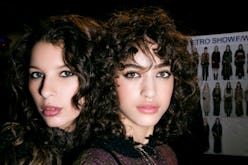 Staying ahead of the curve is the key to achieving trendsetter status, no matter the season. Here, we're predicting spring's biggest haircuts and colors as seen on the 2017 runways. Read on to choose which of these looks you'll rock before everyone else—because it pays to be early.
Spring 2017 Hair Trends
Inspired by the je ne sais quoi of French street style, too-cool-to-care bangs are about to be everywhere. Ditch blunt, perfectly placed fringe and opt for a look that's not too styled.
We're not saying this look is for everyone, but hear us out, okay? While it takes a serious leap of faith to pull off a buzz, when done correctly, it can step up your beauty game exponentially and show off your best facial features. If you've got the bone structure, flaunt it.
It girls are currently all about the lob (long bob, for the laywoman), but once spring rolls around, things will get shorter and much edgier. For just the right length, choose a cut that falls between the bottom of the ear and the chin.
Via a cluster of twisted tendrils, curly-haired girls are doing bangs in a big way. Out with blunt and pin-straight, and in with a much cooler textured look.
With highlights, ombré and balayage all in our rearview, this spring is about believable brunettes. Various shades of brown will have a tonal look, as if you were born with it.
For those who prefer whimsy, sweet candy shades make a big statement this season, from fashion to makeup to hair. Opt for a full head of baby pink, or leave your roots natural for an edgier take.
Even if you weren't born with it, you can achieve a realistic red (especially if you tint your brows to match). This spring, stick to shades with some brown in them and stay away from fire-engine hues. Caveat: This color can be the most challenging to manage.
We saw a major influx in pale tresses last year across a wide variety of ethnicities and skin tones. This spring, blondes will get a lot less yellow—and a lot cooler (pun intended).