The Internet Is Talking About Gabby Douglas For All The Wrong Reasons
Tom Pennington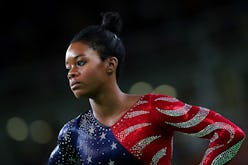 Update: Actress Leslie Jones is now paying the kindness showed to her by supporters—as she was bullied on Twitter by haters— forward. She created a hashtag for Olympic gymnast Gabby Douglas, who has likewise experienced extensive social bullying, to counteract all the negativity. Join her using #LOVE4GABBYUSA.
Gabby Douglas is currently in Rio with the US women's gymnastics team, impressing the world with her athletic abilities. Together the ladies took home the gold medal last night in the team event, where Gabby competed on the uneven bars. In 2012 at the London Summer Olympics, Gabby became the first black gymnast to win gold in both the individual all-around and team events as part of the Fierce Five. While the world should be focusing on Gabby's history-making gymnastic talents, online bullies have decided to criticize her hair instead.
This isn't the first time Gabby's been the target of hateful online comments. During her first Olympics, Twitter exploded with mean, derogatory tweets about the then 16-year-old athlete's hair. And while the social media sphere has been quick to defend Gabby, the comments are nothing short of problematic and disappointing.