Giorgio Armani Introduces The First CC Lipstick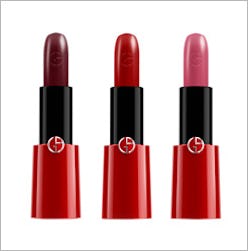 Though we've naturally come to expect luxe formulas time after time from Giorgio Armani, the latest in their beauty lineup is a true standout—the first CC lipstick to hit the market!
So what does that mean exactly? In a nutshell, consider it rich color delivered with the ease of a balm and precision of a liner. CC stands for "color and care," employing new technology to deliver the perfect hybrid formula for lipstick. Available in 36 shades, the expansive palette ensures there's a highly-pigmented color for everyone! A special feature our editors love? The packaging includes a magnetic closure, so your lippy stays sealed in the tube, not all over your purse. Love!
Availability: Giorgio Armani Rouge Ecstasy lipstick ($34 each). For additional information, visit GiorgioArmaniBeauty-USA.com.