Future Society's Fragrances Give Extinct Flowers A New Life
This collection of scents is like no other.
@futuresociety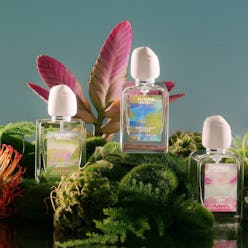 We may receive a portion of sales if you purchase a product through a link in this article.
What if you had the chance to smell the aroma of extinct flowers? It sounds like a farfetched idea, but it's the exact concept of Future Society, a new, first-of-its kind fragrance brand, developed by leading biotech firm Arcaea. Instead of using the average floral scents found in a number of mass and fine perfumes, the brand utilized DNA sequencing to bring extinct ones back to life. Then, they uniquely paired the lost flowers with tried-and-true notes in other scent families. The result is the Scent Surrection Collection, six fragrances that are quite literally like nothing you've ever smelled before.
With this set of distinct perfumes that highlight forgotten blooms from across the world, Founder and CEO of Future Society, Jasmina Aganovic, has tapped into an unfilled niche in the fragrance market, which heavily relies on traditional concoctions of aromas. While working with biotechnology company Ginkgo Bioworks, which had been sequencing the DNA of several extinct flowers with the help of the Harvard Herbarium (the university's preservation of flower species), Aganovic became fascinated by the possibilities of these floral scents within the beauty and fragrance realm. "What I saw was an opportunity to use biology to tell a story that previously was not possible in fragrance," explains Aganovic. "I started to wonder how perfumers would work with biological data as a muse for the creation of unique fragrances. This is ultimately where it all started."
The process of extrapolating genetic information from the flowers and then using the information to construct the collection of perfumes is comparable to DNA testing kits like 23andMe. Instead of gathering saliva samples to generate a wealth of genetic information, scientists pulled tweezer-sized specimens from the dried florals and sequenced the DNA in their labs.
"Through DNA sequencing we were able to get a glimpse into what types of scent molecules were encoded in the genome of these flowers," says Aganovic. Since the ones that were sequenced are considered extinct, it's not really possible to accurately understand or truly know what the precise scent of them would be like today — but this process still played a critical role in getting a sense of their aromas.
To then transfer this biological data into aromas, Aganovic enlisted top perfumers in the industry to help take this biological data and create a line of fine fragrances, pairing them with familiar notes, such as bergamot, saffron, black pepper, and grapefruit. And thus, Future Society's unique scent story was created.
A few examples of the perfumes in the collection include Reclaimed Flame ($98) featuring the extinct leucadendron grandiflorum, which was last seen in 1960 in Western Cape, South Africa that disappeared due to wildfires, and Grassland Opera ($98), featuring the Orbexilum stipulatum, which was a flowering plant historically used for the migration of American buffalo, last seen in 1881.
Aside from the amazing biotech capabilities of the brand, Aganovic's intention with Future Society is to inspire a brighter future for us all by reminding us of the promise and possibility it holds. Aganovic says that everyday we can choose to take the right steps to enable these great possibilities.
In the meantime you can instill your personal positive outlook by spritzing one of Future Society's fragrances, which are detailed below. And if you truly can't decide on a bottle, you can sample each one in the discovery Scent Surrection Set ($35).