6 New (And Totally Wearable) Ways To Wear Your Eyeliner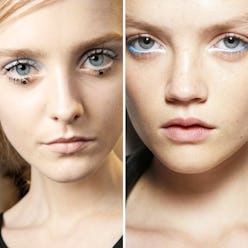 Let us guess, the only time you tend to get creative with your makeup look is when it comes to your eyeliner. Us to. There's something about a longer flick, a thicker stroke or a new liner color that makes us feel like a newer, better version of ourselves. But if you've already ran out of ideas for updating your go-to cat eye, we have some new looks to inspire your next makeup experiment. If the eyes have it, we want yours to be the best ones out there.
Peepers That Pop
Photos: Pinterest
The Ombre Waterline
Trace half of your waterline beginning at the inner corners with a white liner. Fill in the outer half of your waterline with a teal pencil and blink a few times to smudge them together.
The Floating Cat Eye
On bare lids, use a liquid liner to draw a line in your crease. Follow the contour of your eye and wing out at the outer corners.
The Mascara-Liner Power Couple
Wear a classic cat eye in a bright blue hue and add multiple coats of mascara in the same pop of color. Extra points for pairing it with an equally bold lip.
The Double Cat Eye
Use tape or a business card to create a smoky eye with a sharp, cat-eye-looking edge. With an eyeliner pencil, line the lower lash line and wing out following the shadow line.
The Reverse Cat Eye
Instead of focusing on your perfect outer flick, use an eyeliner pen to accentuate the inner corners of your eye. Curving downward, line the inner corners of the lower lash line and back up into the tight line. Add a cat eye to the upper lash line or leave it bare.
The Eyeliner Without The Line
Trace the waterline with a white or nude eyeliner to make your eyes pop. With a gel eyeliner pencil, create a dot under the lash line in the center of both eyes.