The Dior Eyeliner Idea We're Dying To Try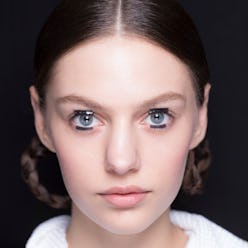 Whether you're planning to dance the night away at a few holiday parties this weekend or are just in the mood to up your date night game, allow the makeup look at Dior's pre-fall show to provide some fresh inspiration. Who would've thought graphic eyeliner and a little glitter could be so chic?! Get the steps for achieving this eye-catching makeup look (if you dare) and our tips for making it work even when the disco ball stops spinning.
"I wanted to design a makeup look that was both graphic and abstract. I also created a play on light to reflect the shiny, glittery elements that were omnipresent throughout the collection and that give the makeup a slightly Magna feel."
- Peter Phillips, Creative and Image Director for Dior Makeup
Photo: Courtesy Of Dior Beauty
Get The Look
With a creamy black eyeliner, center a rectangle on the eyelid directly above the iris and extend down to the lower lid. Fill in the entire rectangle and line the waterline, only in this area.
Draw attention to the center by applying mascara in the middle section and leaving outer corners bare.
On top of your rectangle, apply a line of adhesive and gently press glitter on with a Q-tip.
Photo: Courtesy Of Dior Beauty
You Can Also Try...
If this look pushes you out of your comfort zone, try our tamer versions:
Within The Lines: Like the concept but it doesn't feel wearable for you? Line the upper and lower lash lines only in the center (without extending up onto the lid) and apply mascara to this area.
Color Blocking: Want to make your baby blues pop? Creating this look with a navy shade is a great way to add color into your winter palette while softening the look a bit.
Shine On: Love the glitter but afraid to show your graphic side? Simply line the upper lash line with glitter flakes and apply a coat of black mascara.
Photo: Courtesy Of Dior Beauty