Dior's J'Adore L'Or Has Icon-Status Perfume Written All Over It
Courtesy of Dior Beauty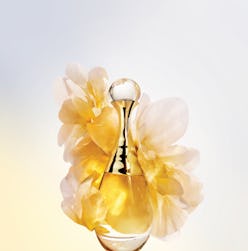 We may receive a portion of sales if you purchase a product through a link in this article.
In order to move forward, you sometimes have to look back. It's a cliché saying, but it's one that holds true — even in relation to crafting fine fragrances. Just ask Dior perfumer Francis Kurkdjian, who, when appointed to his role with the French fashion house, was tasked with reinventing the iconic J'Adore Eau de Parfum. When beginning his preliminary work on the new scent, he poured into the late designer's archives, including his personal items, for inspiration. The end result is Dior J'Adore L'Or, a modern, sensual floral perfume that honors the notes of the original juice, but goes one step further to accentuate their uniqueness.
"Florals are still relevant to the story of Dior because [Christian] Dior had a general passion for flowers," Kurkdjian told beauty editors during a press event at the AMAN New York. "As a kid at his family's house in Normandy, he had a catalogue of flowers he would study." The perfumer also read up on Dior when joining the house in 2021, reading his biography along with other books on his life and work, essentially serving as the "bible" for his new role.
The brand likens the notes of the new scent to zooming in on a pointillism painting — the colors of the floral notes are the equivalent of the dots that make up the images within the work of art. The fragrance captures the powerful essence of l'or (or gold) — hence, the name — by balancing the concentrated floral notes, which includes orange blossom, jasmine grandiflorum, and centifolia rose absolute, to create "liquid gold" in perfume form, if you will. Kurkdjian says that even if your nose focuses on one of the florals, they're still balanced with the rest, a nod to the fluid metal theme.
The bottle is also a nod to the blueprint, keeping the original amphora shape, but the iconic gold necklace wrapped around the neck has been melted into dripping metal.
"I wanted to translate the fluidity of the melted necklace on the bottle into the fragrance," Kurkdijan shares. "Gold is at its purest quality when you melt it, so I thought about the original perfume, imagining if I had to heat the perfume itself what would be left?"
The result is a modern floral fragrance with hints of nostalgia — a relevant scent for a time when fashion and beauty trends have been heavily influenced by the past as a source of comfort.
For those in the market for a signature fall scent, J'Ador L'Or Eau de Parfum is available for $170 at dior.com.