Deborah Lippmann Launches Lipstick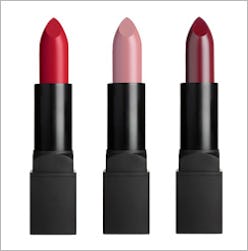 When it comes to making manis sparkle, no one holds a candle to Deborah Lippmann. Plus, her portfolio covers everything from the red carpet to the runway — so, you'd be hard-pressed to find a nail art aficionado without a serious stash of DL bottles in her arsenal. And, it looks like Lippmann lovers are about to add even more colorful products to their collections: The manicurist has just launched a line of moisturizing lipsticks.
Not only is the premiere range entirely appropriate given her fitting last name, this woman knows a thing or two about color. Every hue has its charms, but the dark berry shade, called Under A Spell, has worked some serious magic on us. We predict that when paired with the ultimate nighttime ensemble – a little lace dress, ankle strap heels and a box clutch — you will enchant every single onlooker that passes. For a bombshell-worthy pink, we love I'm Every Woman and for a classic red worthy of day or night, She Bangs is your shade.
Availability: Deborah Lippmann Sheer Lipstick in She Bangs, I'm Every Woman and Under A Spell ($22 each).