How To Cover A Sunburn With Makeup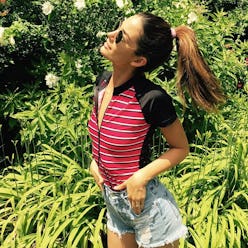 If you spent as much time in the sun this weekend as we did, chances are your skin has seen better days. We loved the sun-kissed glow we sported all weekend but now our face just looks red, shiny and is on the verge of peeling. Here, get our makeup tips for covering your sunburn without looking like a hot mess.
Feel The Burn?
Photo: @lilyaldridge
Mattifying Primer
After spending a day in the sun, skin can look shiny–use a mattifying primer to combat this.
Green Concealer
Use a green concealer to neutralize redness in the face, which usually occurs on the nose, cheeks, forehead and chin.
Color-Correcting Foundation
Use a color-correcting foundation to even skin tone and hide all traces of redness. Apply it with a Beautyblender sponge to give skin an airbrushed look that doesn't look too heavy.
Mineral Foundation
Dust on a mineral foundation on your T-zone to further mattify damaged skin.
Bronzer
Skip the blush when your skin is burned to avoid adding even more redness to the face. Instead, warm up your complexion with bronzer on the forehead, nose and apples of cheeks.