Hailey Bieber & Rosie Huntington-Whiteley Swear By This Cleanser For Glowing Skin
Exfoliation without the irritation.
COSMEDIX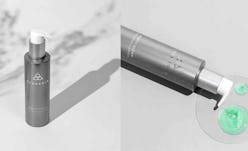 We may receive a portion of sales if you purchase a product through a link in this article.
New skin care trends and products are always popping up, but one thing that won't change is the importance of properly cleansing your skin. For celebrities like Hailey Bieber and Rosie Huntington-Whiteley, the COSMEDIX Purity Clean Exfoliating Cleanser — introduced to each by Australian aesthetician Melanie Grant — is the first step in achieving their signature glowing skin. So, what makes the cleanser so good that Bieber reportedly used it as part of her pre-wedding skin care routine? Keep reading to find out.
Fast Facts:
$42 for 150 ml
Best for oily, acne-prone, or congested skin
Cruelty-free
Synthetic fragrance-free
SLS-free
The primary reason this cleanser is so good at promoting glowing skin is because it's been formulated to gently buff away dead skin cells, oil, and debris that not only contribute to clogged pores, but also can make your complexion look dull. To get the job done without leaving skin feeling irritated or dry, the Purity Clean Exfoliating Cleanser uses a 5% concentration of lactic acid, an alpha hydroxy acid. The AHA is a popular choice among dermatologists for helping to improve the overall skin tone and texture, while still being gentle enough for more sensitive and dry skin. Additionally, the cleanser was designed to help reduce excess oil and treat acne with anti-inflammatory and antibacterial ingredients like tea tree oil and neem leaf extract. Plus, it contains a blend of ingredients aimed at restoring hydration, like glycerin and aloe leaf juice, while peppermint oil contributes to its refreshing feel.
Though you probably don't want to use this cleanser daily, it was designed to be gentle enough to use in the morning or at night. Oily and acne-prone skin types might prefer the exfoliating benefits first thing in the morning, whereas drier skin types might choose to pass on a morning cleanse altogether. If your skin is on the drier side, you could also choose to use this cleanser a few times a week to reap its exfoliating benefits.
If you're using the cleanser as part of your nighttime routine, be sure to thoroughly remove any makeup that you may be wearing with a makeup remover or cleansing balm first. Then, you'll want to follow COSMEDIX's advice by dampening your face and hands before giving the bottle a good shake and working a dime-sized amount of product into a lather with your hands. Once you've worked the cleanser over your skin, you can rinse it off with warm water and go about the rest of your routine.
Interested in trying this celeb-loved cleanser out for yourself? You can purchase it through the link below.
This article was originally published on