Makeup That Changes Color When Applied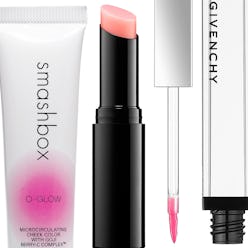 Ever wondered what it would be like to have your makeup shades custom-made for you? A girl can dream. But thanks to 5 genius products that change colors to match your complexion, you don't have to. From a white CC cream that changes to match your skin to a colored lip balm that reacts to your pH levels, these shade-shifting beauty buys are more like a science project than a beauty routine. Beauty and brains–what's not to love?
Magic Makeup
Liquid Blush
Squeeze the clear gel out of the tube and pat it onto the apples of your cheeks. The formula works with the chemistry of your skin to match the color you would naturally blush.
Lip Balm
Working with your body's natural pH level, this lip balm can turn your lips from a light pink to a bright fuchsia.
CC Cream
Available in only 1 shade, this color-correcting cream changes from a bright white to the color of your complexion.
Lip Gloss
This clear gloss enhances the natural color of your lips to make it brighter while still looking natural.
Blush
pH levels in your body change the shade of blush to works best for your complexion.