This Ayurvedic-Favorite Fruit Is Like a Panacea for Your Face
Chebula truly does it all.
TZR; Courtesy of Brands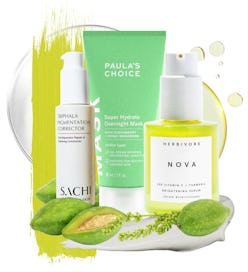 We may receive a portion of sales if you purchase a product through a link in this article.
With new products, brands, and categories popping up every day, beauty can be a bit overwhelming. Back to Basics is our rudimentary beauty series that serves as your crash course on the science behind some of the best formulations in the game. This week, we're taking a look at chebula for your skin.
As far as skin care ingredients go, there's an unofficial (but widely recognized) group of A-listers. Think hyaluronic acid, niacinamide, retinol, salicylic acid, vitamin C — the type of ingredients included in a product name; the mere mention of which adds to a product's desirability. But beyond those akin to celebrity status, there's plenty of other hard-working ingredients regularly used in serums, creams, and treatments we know little to nothing about. Some with track records as impressive (if not more), than those fan favorites. Enter chebula, a sleeper hit that's been hiding in plain sight for years, obscured on lengthy INCI lists and rarely granted a starring role.
While chebula is under-appreciated by modern skin care, it's not a new discovery. The fruit, which is typically found in South and East Asia, has been widely heralded as an Ayurvedic cure-all for decades, used to treat a number of concerns from digestive issues to diseases. For the skin, it can boost radiance, hydrate, and improve signs of aging such as fine lines and wrinkles.
Ahead, two dermatologists share the skin care basics of chebula, including potential side effects and the best products to try.
What Are The Skin Care Benefits Of Chebula?
According to Dr. Naana Boakye, M.D., a board-certified dermatologist, product developer, and author of Inside Out Beauty, chebula is known for its rich phytochemical profile, which includes particularly high concentrations of ascorbic acid (more on that in a moment). And its track record is seriously impressive.
As Dr. Jeannette Graf, M.D., a board-certified dermatologist and assistant clinical professor of dermatology at Mount Sinai School of Medicine, explains, chebula is a powerful antioxidant with both anti-inflammatory and antibacterial properties. So powerful, in fact, that a 2016 study found it to be stronger than many of what are considered to be gold-standard antioxidants, including traditional vitamin C, tocopherol (vitamin E), and butylated hydroxytoluene (BHT).
Dr. Graf also points to a more recent 2021 study that found those same antioxidant properties work to fight the effects of sun damage on two different levels — protecting the skin from the sun's powerful effects in real time, while simultaneously correcting pre-existing signs of photo damage. Other research suggests that chebula can increase moisture retention in the skin as well as brighten tone and increase radiance.
Who Should Use Chebula & What Are Its Potential Side Effects?
Chebula's laundry list of benefits, along with its plumping and firming effects, has earned it an impressive reputation as an anti-aging powerhouse. Indeed, both Dr. Boakye and Dr. Graf say the ingredient is particularly beneficial to those concerned with signs of aging — its ability to minimize the appearance of fine lines and wrinkles as well as plump and tighten the skin is simply unmatched. It's also great for those looking to brighten the skin, and is often found in brightening and pigmentation serums.
As if the ingredient weren't already impressive enough, chebula has virtually no known side effects— that is to say, there could be some potential associated risk factors, but if there are, they've yet to be identified in any of the studies conducted. But as is the case with any new ingredient, Dr. Graf suggests patch testing before fully incorporating it into your skin care routine.
But there's a reason chebula isn't necessarily ubiquitous across skin care — while research demonstrates chebula's immense potential, it's been severely understudied in Western Medicine. In fact, that 2021 study was the first to focus specifically on chebula's potential as a skin care ingredient. So while the research we do have is overwhelmingly positive, it's not exactly abundant.
How To Incorporate Chebula In Your Skin Care Routine
Despite lacking a wealth of clinical research, chebula still has a promising future in the world of skin care. Dr. Graf suggests incorporating the ingredient into your morning routine underneath sunscreen. "I don't recommend using it in combination with too many other active ingredients as it can be harsh on the skin," she says. "I recommend using this in the morning and then using your other active ingredients during your nighttime skin care routine."
Ahead, shop some of the best chebula-infused products for plumper, brighter skin.
Shop Chebula Skin Care Products