Nobody Thought Cara Could Pull Off Shaving Her Head, But That's The Problem
Getty Images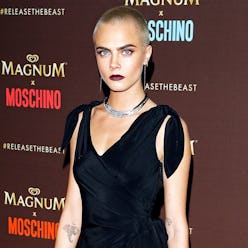 By now, you've probably seen images of Cara Delevingne stepping out with her newly shaved head. And while we were all surprised when she announced her intention to dye her hair platinum blonde and eventually buzz it off completely, we had no doubt she could pull it off. Not everyone was as receptive to Cara's boldest 'do yet, however.
The model-turned-actress recently explained that she was inspired by her role in the upcoming film Life in a Year, which will detail her character's journey as a young woman living with cancer. While at Cannes, Cara told a reporter that she first broached the idea with the film's director as a way to fully get into character. Upon hearing her plans, Cara's agents and managers begged her to reconsider, not understanding why she'd commit to such a big change.
The star has since used this very experience to debunk society's ideas of beauty standards in an Instagram post. "The way you look, I think, it's so important to feel beautiful, no matter if you have hair. It doesn't matter at all," she said in the Cannes interview. Inspiring words, and we're glad to see Cara fully immersing herself in her craft, despite the thoughts and opinions of those around her.