Master Perfumer Carlos Benaim On The Scent Of Romance
The nose behind Maison Margiela Replica breaks down the brand's new sensual fragrance.
Courtesy of Maison Margiela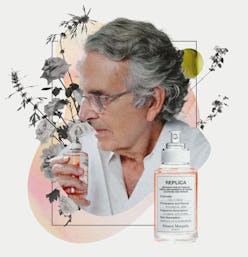 We may receive a portion of sales if you purchase a product through a link in this article.
Every scent evokes an emotion. In Scent Stories, TZR asks tastemakers, celebrities, and industry insiders to share the stories behind the smells of their past and present.
"Floral," "fruity," "earthy," and "woody" are common adjectives used to describe both fragrance and wine. The parallels between the worlds of winemaking and perfumery are exactly what inspired Maison Margiela's Replica On A Date Eau de Parfum, the latest scent to join the designer's line of perfumes based on one's collective memories. In addition to bottling up the sensorial elements of of drinking a glass of French rosé or red wine in Provence, master perfumer Carlos Benaim, the nose behind On A Date, has captured the feelings of romance that often coincide with going on a date — excitement and hopefulness.
"The inspiration for On A Date was the wine world, specifically the intersection of the wine and perfume worlds," Benaim tells TZR. "They share a similar aesthetic experience, the balance between the color, the taste, and the smell."
To achieve this feat, Benaim collaborated with master sommelier, Manuel Peyrondet to carefully craft the juice. The top notes include fresh, sparkling, and spicy blackcurrant syrup, pink pepper, and bergamot to elicit the excitement of heading on a date; the heart of the fragrance includes damascena rose petal essence and bergamot essence to channel the sweetness of seduction; finally, the base notes include blackcurrant liquor accord and patchouli essence to bring seduction to the scent. The juice also has a soft pink hue, intended to resemble a glass of rosé.
Ahead, Benaim shares how the wine and fragrance spaces came together to create Margiela's Replica On A Date, along with what the emotions the scent embodies smell like to him.
The Scent Of Wine
"Wine and fragrance are often seen as complimentary. You appreciate one, you appreciate the other. One of the bridges between the two worlds is the smell. The French call it the bouquet of the wine, and the vocabulary used to describe wine and perfume are very similar. Both connect with natural ingredients, When someone says a wine smells like raspberries or pear, for example, those fruits are also used in perfumery. Like in wine, perfumery has different families of notes, too. Florals and woods are two examples."
The Scent Of Modern Relationships
"Things move much faster today, so romance and dating are constantly evolving situations. For a long time, things were much slower in a sense that you couldn't see each other as much [due to a lack of technology]. Now, you can get together and have a glass of wine and enjoy the togetherness. We can celebrate that with this perfume."
The Scent Of Romance
"In my mind, romance is equated to a beautiful floral bouquet, and rose has always been iconic in the world of love and romance. So I would say a beautiful floral bouquet would be the main element, but of course it has to be more sensual than that. The addition of notes of vetiver and patchouli in the back and patches of musk would bring sensuality to the fragrance."
The Scent Of Excitement
"Excitement is a positive emotion; the anticipation. In terms of smell, for me, it would be the top notes of the fragrance. Something very sparkly at the beginning of the fragrance. In On A Date, for instance, I played with sparkly notes and spicy effects of pink pepper, cardamom, and ginger; things that are really energetic."
The Scent Of Nostalgia
"Nostalgia could be reminiscing of a time in the past or places in the past. For me, that place in the past would be Provence; going to the vineyards in the South of France where my sister lives and has vineyards. My nephew is also a vintner there. That area is magical in a sense. The views are gorgeous and so are the old villages. Also, there's the nostalgia of having started my career as a perfumer in these areas."
The Scent Of Comfort
"The scent of comfort to me is something that you can rely on and that is familiar to you. In the case here of dates and romance, it's the person you love; a smell that makes you feel in a safe place. It's very skin-like, with musks with other deep notes that enhance the skin effect."
Shop Maison Margiela's On A Date