I Haven't Experienced Dry Winter Skin Thanks To This K-Beauty Toner
It makes sense it's always sold out.
woman with a black beanie on and glowy skin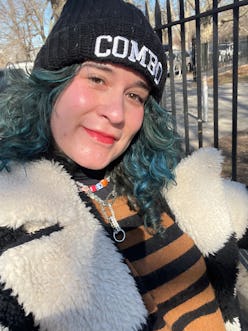 We may receive a portion of sales if you purchase a product through a link in this article.
In our series Trial Run, TZR editors and writers put the buzziest new beauty products to the test and share their honest reviews. This week, beauty writer Devon Abelman is testing the buzzy Round Lab 1025 Dokdo Toner.
Skin flooding may be TikTok's latest skin care buzzword, but saturating your skin in moisture has long been the crux of K-beauty. Sure, interesting ingredients and fun delivery systems have made South Korea's skin care exports stand out stateside. However, over in Seoul, skin-flooding is the ultimate skin care routine for deep hydration — even if the goal is to banish breakouts, too. And the Round Lab 1025 Dokdo Toner is the top pick for building this type of regimen.
Since launching in 2019, the toner has won numerous top Korean beauty awards and is a constant best-seller at Olive Young, which is like Korea's version of Sephora meets Ulta. Recently, I finally had a chance to try Round Lab's buzzy Toner — just in time for the freezing, skin-dehydrating winter weather in New York City.
While I was familiar with Round Lab from the K-beauty accounts I follow, the brand wasn't available in America until October 2022. In the few months since it launched, the toner specifically has amassed a cult-following on TikTok. Now, the brand has a hard time keeping the 1025 Dokdo Toner in stock, a Round Lab spokesperson tells TZR. But is it worth all the hype? Short answer: Absolutely, but allow me to explain why.
Fast Facts
Price: $17
Size: 200ml
Clean/Cruelty-Free: Yes
Best For: Keeping even the most sensitive skin hydrated, plump, and balanced
Ingredient Highlights: Deep seawater, sugarcane extract, and panthenol
What We Like: Instant, lightweight hydration with gentle, non-irritating exfoliation
What We Don't Like: Nothing!
Rating: 5/5
How TZR Keeps Score: 1/5: Making a return; 2/5: Keeping as a backup; 3/5: Finishing to the last drop; 4/5: Recommending to my group texts; 5/5: Already on auto-replenish
The Formula
Upon first glance, the Round Lab 1025 Dokdo Toner is pretty no-frills and straightforward. Its simple round bottle seemingly appears to be filled with water — and only water. Even a whiff of the transparent liquid will make you doubt it's a toner because it truly smells like nothing. However, once you sprinkle it into your hand, you'll notice the formula is slightly more viscous than good old H2O.
One of the beloved toner's standout ingredients actually is water, but it's far from any you're drinking today (literally and figuratively). Round Lab formulated the toner with the deepest seawater on the market. It's specifically sourced from the East Sea, four miles off the coast of a South Korean island called — you guessed it — Dokdo. (The 1025 is an ode to October 25, which is known as Dokdo Day in Korea, and celebrates the country regaining sovereignty of the island after World War II.)
The seawater is extracted 5,000 feet below the surface for the utmost purity, freshness, and high mineral content. According to the brand, it's rich in more than 90 different natural minerals (such as magnesium, sodium, calcium, and potassium) similar to that of our blood to help replenish the complexion. When layered onto skin, this deep sea water also helps gently slough away dead skin cells, soothe irritation, and reduce transepidermal water loss. The mineral-rich seawater is joined by powerful humectants: sugarcane extract, which is naturally packed with alpha hydroxy acid; deeply moisturizing betaine and moisture-locking panthenol aka vitamin B5.
Protease, a naturally-occurring enzyme sourced from plants for its exfoliating benefits, even makes an appearance on the ingredient list. It's known for helping to clear out pores while smoothing out texture and balancing sebum production. Studies have found protease even helps improve the efficacy of moisturizer.
What I Look For In A Toner
Toner is an essential part of both my morning and nighttime skin care routines. It's the first product to soak into my skin after cleansing it, so it needs to be highly effective, lightweight, and deeply hydrating.
I typically look for toners with a thick but watery texture or ones with a more milky vibe (like Holifrog's Microflora Toner). Spray-on toners are my favorite, but it's not a dealbreaker if the toner doesn't have that delivery system. As for the benefits and ingredients I seek out, I'm all about a great balance of hydration and exfoliation with plant extracts and gentle acids, respectively.
My Experience & Results
My application method of choice for Round Lab's toner is shaking the bottle a couple of times into the palm of my hand before patting the liquid onto my skin. On days when my skin really needs all the moisture it can get, I'll repeat with a second and even third coat. Like nail polish, watery toners work best with multiple layers.
As soon as the toner hits my skin, I can almost feel every pore on my face slurping it up like the crispest, coldest water on a hot summer day. It's so relieving and calming without feeling heavy on my skin. From there, I dive directly into the rest of my skin care routine.
Since incorporating the toner into my regular beauty roster (and not changing any other products I'm using), my friends keep telling me it looks like winter hasn't touched my skin because it's so glowy and juicy. I don't wear foundation or concealer, so my skin is exactly how it seems. Several people have also asked me how old I am in the past couple of days and don't believe me when I say 31. Take that as you will.
I truly believe the 1025 Dokdo Toner is singlehandedly helping my skin maintain moisture, radiance, and bounciness, even when in arctic temperatures. It feels like a security system of sorts for my skin, helping to seal in all the good stuff and keeping out environmental aggressors.
Is Round Lab's 1025 Dokdo Toner Worth The Hype?
Round Lab keeps making bigger and bigger bottles of the 1025 Dokdo Toner so fans are never without it, and I fully understand why. If I could, I'd have a water cooler with this toner on tap because I go through a bottle quickly with the amount I apply to my skin on a daily basis. Round Lab even has a whole 1025 Dokdo line with masks, creams, and cleansers spiked with the same ingredients, and I'm ready to indulge in those, too.