The Best Moisturizing Lipsticks I Keep On Rotation During The Winter
Cold weather has met its match.
Angela Melero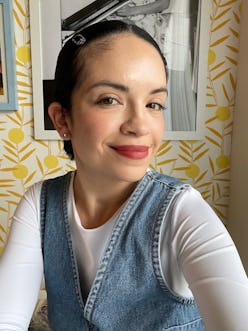 We may receive a portion of sales if you purchase a product through a link in this article.
I've been a devoted lipstick lover since the ripe age of 15 (when my mother finally allowed me to wear more than lipgloss and tinted sunscreen). I embraced the magical bullets of color, always reaching for vibrant hues of cherry red, coral, and fuchsia. Fast forward some 20 years later and nothing much has changed. To this day, lipstick remains my secret weapon to elevating my look in an instant. That said, the only time I have issues with my go-to beauty strategy is in the dead of winter, when the chilly temps dry out my lips to the point of cracking and flaking. And we all know that long-wear, high-pigmented lipstick formulas often mean stiff, cakey finishes. Luckily, my superhero skill for lipstick hunting has led me to accumulate an arsenal of the best moisturizing lipsticks that keep my lips hydrated without sacrificing color.
Yes, over the years, I've tested and tried a variety of formulas that truly shine (literally) in the bleak winter months. I should also mention that I follow a strict lip care routine that includes daily lip scrubs, rich balms, and an overnight mask. Even as I move from indoor to outdoor, migrating from cold to hot temps, my lips manage to remain soft, supple, and colorful as can be.
Ahead, take a look at the moisturizing lipsticks (and trusty lip care items) that keep my winter looks in check even in the most dire of weather situations. Mother Nature is no match for a true lipstick devotee.
Lip Care
Reds
Nudes
Pinks