These Are Best K-Beauty Sunscreens To Shop For Every Skin Type
Your skin will thank you.
@enga.d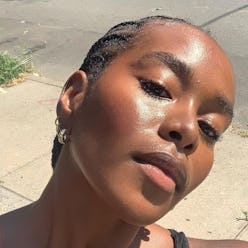 Daily SPF should always be a part of your beauty routine, but now that summer is (un)officially here, it's even more important to protect your skin from the sun's rays. There are tons of SPF products on the market, but there's no denying that K-Beauty sunscreens are some of the best. Korean skin care has exploded in popularity in recent years as customers became aware of the culture's focus on holistic practices and high-quality ingredients — and the covetable glow that comes along with that.
You may be familiar with the "glass skin" trend that continues to make the rounds on social media; the phenomenon was pioneered by Peach & Lily founder Alicia Yoon and refers to the dewy, reflective glow that's achieved through a meticulous, hydration-focused K-beauty skin care routine.
Of course, good skin care isn't only about aesthetics. Protecting your skin from environmental aggressors like harsh UV rays is a crucial element, and most skin care experts will tell you that a daily SPF is the best way to combat this potential damage. Unsurprisingly, there is no shortage of K-beauty sunscreens that not only protect the skin but soothe and hydrate with nourishing ingredients.
When it comes to finding your perfect SPF (K-Beauty or otherwise), NY Facial Plastic Surgeon and Founder of AIREM Dr. Eunice Park tells TZR that the most important factor is choosing one that you will *actually* use every single day. You're obviously more likely to reach for a product that works for your skin type, so Dr. Park recommends sunscreens that are lightweight, don't leave a white cast, and won't clog your pores.
You'll also need to decide whether you prefer a mineral or chemical sunscreen. "Mineral sunscreens form a physical barrier between the UV rays and the skin using physical blockers like titanium dioxide and zinc oxide," Dr. Park explains. "Chemical sunscreens absorb UV rays turning them into heat using chemical ingredients such as avobenzone and octocrylene."
What makes K-Beauty sunscreens so special, she adds, is the PA (Protection Grade of UVA Rays) rating in addition to the standard SPF rating. "This system was developed in Japan and is widely used throughout Asia," Dr. Park says. "PA rating takes into account the degree of protection the sunscreen confers against UVA rays and development of skin pigmentation with PA++++ conferring the highest level of UVA protection."
No matter which sunscreen you choose, experts agree that an SPF rating of at least 30 is essential for daily protection (you should also be looking for the phrase "broad spectrum" on the packaging, which indicates that it shields from both UVA and UVB protection). "At least SPF 30 which will protect against approximately 97% of UV rays," says Dr. Nava Greenfield of Schweiger Dermatology Group in New York City. "That leaves 3% reaching your skin which can still cause significant damage."
Ahead, discover the best K-Beauty sunscreen for your skin type and get stocked up for summer.
We at TZR only include products that have been independently selected by our editors. We may receive a portion of sales if you purchase a product through a link in this article.
Best K-Beauty Sunscreen For Dry Skin
Best K-Beauty Sunscreens For Oily Skin
Best K-Beauty Sunscreen For Dark Skin Tones
Best K-Beauty Sunscreen Under Makeup
Best K-Beauty Sunscreen Under $20
Best K-Beauty Sunscreen For Sensitive Skin
Best K-Beauty Sunscreen Foundation
Best K-Beauty Sunscreen For Face & Body