Faith's Favorites: 7 Must-Have Summer Beauty Products
A sleek lipstick, a glowy CC cream, and more.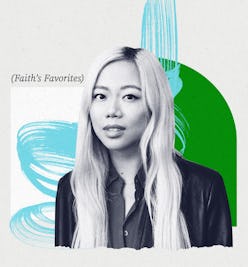 Welcome to the second installment of Faith's Favorites, where Bustle's executive beauty director waxes poetic about the products bringing her joy.
Ah, there's nothing like New York City in the summertime. Something magical happens in the city when the thermostat rises above 80. Hunched city dwellers stand taller; laugh more. Suddenly, the world seems full of possibilities, seasonal depression and angsty cold-weather thoughts dissipated as quickly as the pungent fumes blown up from the sewage gates adorning our sidewalks. Sure, we're sweating in crevices we didn't realize we had, and yes, there's the whole street trash smell, but overall, it's the season of summer Fridays, afternoon Spritzes, and ultimate joy. With that in mind, this month's beauty picks are all products that have made my routine brighter, more colorful, and just…happier.
The Serum
Skin care is doubly as important in the summer, even if you're tempted to forgo all your products and go au naturel. Since your skin might be more irritated due to sun exposure, opt for a retinol that also contains skin-soothing ceramides (the building blocks of your skin!) and peptides, which help plump up fine lines. This one from Kiehl's is gentle enough to use every day without fear of redness or sensitivity.
The CC Cream
This is my current go-to complexion product — I'd write love songs about it if I could. For anyone who's tried IT Cosmetics' cult-loved original CC Cream, consider this it's glowier sister. The coverage is a little more sheer, but it's really the finish that blows my mind every time. Somehow, it manages to make my skin look healthier and dewier in the five seconds it takes for me to apply it to my face, while also smoothing out any bumps or texture issues. The fact it has SPF 40 in it is just the cherry on top. Buy this foundation ASAP if you're glow-obsessed like me.
The Glow-Giving Foundation
On days when I need extra coverage, I call in for backup via this glow-giving foundation from Lancôme. The creamy formula is perfect for sweaty summer days with its medium coverage, SPF 27, and silky feel — plus, I love that it's infused with hyaluronic acid to give my skin a bouncy feel. I can attest that it kept my skin looking fresh through 10 hours of sun and sweat.
The Full-Coverage Foundation
Summer breakouts are, sadly, very much a reality for me, which is why this foundation from Valentino Beauty is such a staple during the sweltering months. It gives smooth, medium-to-full coverage and blurs over bumps and large pores (curse you, oily T-zone), leaving my skin looking appealingly smooth and velvety, without ever looking cakey. I trust it to leave my skin looking pristine, no matter how hot it is outside (and how finicky my skin feels).
The Mascara
I've always been decidedly non-monogamous when it comes to mascara — what can I say, I'm tempted by the variety of the category! — but I think I've found the mascara that's made me a one-wand kind of woman. That would be YSL's Lash Clash mascara: a fat, bristly, inky-black mascara that adds shocking volume to my super-fine lashes in just one sweep – plus, it somehow doesn't smudge or smear, even after a happy hour session in the blazing sun.
The Lipstick
This sleek lipstick won a Bustle Beauty Award, and I've recently rediscovered just how incredible it really is. The slim exterior houses a pigmented satin formula that glides on as smoothly as a Zamboni machine on ice. I love that the finish isn't too shiny, but rather deliciously balmy-feeling without sacrificing on color payoff. It's a one swipe wonder, and a summer must-have.
The Fragrance
Help, I can't stop wearing Prada CANDY. I mean, who doesn't want to smell like a caramel pop in the middle of summer? Something about the heat outside activates the fragrance's musk and benzoin resin notes, making the scent even warmer and more intoxicating after a few hours of wear — I swear, I always get so many compliments when I wear this scent. I used to only wear it at night, but lately, I've been spritzing it first thing in the morning to embrace a sultry state of mind before fall sets in; I love that it keeps me smelling sweet-as-candy in the blazing heat.