Brands Are Making More Accessible Beauty Products — But Is This Inclusive Enough?
Representation makes all the difference.
@guidebeautycosmetics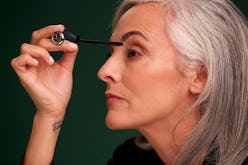 For as long as I can remember, eyeliner has been a struggle for me. Aside from trying to get the perfect sharp wing and avoiding getting liner on my lashes, the eyeliner on my left lid would always be slightly off because that eye has double blurry vision and a slight droop. When my ophthalmologist finally diagnosed me with amblyopia, also known as a lazy eye, it finally made sense why my eyeliner was never quite aligned. Suddenly, my lazy eye became my biggest insecurity and roadblock when applying eye makeup. Though the state of my lazy eye does not classify it as a disability, if I have trouble with makeup, then how do the 61 million Americans who do have an actual classified disability feel when it comes to beauty products?
While using a gorgeous eyeshadow palette to create a smoky eye seems simple enough, someone with multiple sclerosis may have difficulty holding a slim eyeshadow brush with a steady hand. This is when the harsh reality kicks in about who these products are really made for.
Makeup artist and beauty influencer Talya Reynolds has strabismus, also known as crossed eyes, which deems her legally blind. However, despite her physical limitations, Reynolds has amassed a following of more than 100,000 followers on Instagram and has even created her own line of false eyelashes.
"It was very hard in the beginning because my vision impacted my performance," Reynolds recalls of her early days experimenting with makeup. "Lashes were so hard, and I couldn't understand eyeshadow because it was a struggle with my eye shape/condition. But now the beauty industry is trying to make more inclusive products that work for us."
In January, Lancôme gained praise when it revealed its upcoming Hapta device, a handheld, motorized, smart makeup applicator for those with limited hand and arm mobility. Back in 2020, Guide Beauty broke barriers when it created a line of eye makeup products with applicators engineered for those with movement and strength challenges.
How Beauty Brands Are Making Products More Accessible
Guide Beauty founder Terri Bryant worked as a makeup artist with prestige beauty brands like Christian Dior and Smashbox for 20 years before she noticed her makeup execution and her body in general started to feel off. Bryant was suddenly having difficulty moving her fingers and keeping her grip on products and brushes. After being diagnosed with Parkinson's disease, a chronic nervous system disorder most characterized by motor symptoms such as tremors, stiffness and rigidness of muscles and slowness of movement, she created Guide Beauty so she could still work with makeup in her new lifestyle. The label features the same products as an average makeup roster — brushes, eyeliner, eyeshadow — but with a unique design to help with mobility. Each of the products come with a pop-out ring that helps steady shaky hands and allows for an easy grip.
According to Bryant, the key for disability progression in beauty brands is having multiple perspectives in the design room. "I think back to all the years that I was helping brands with education and developing products: if you only have the same people in one room creating products for a whole universe of people, you're limiting accessibility," Bryant says. "What I learned when I got to developing Guide Beauty was the process of inclusive and universal design. The beautiful thing about universal design is that when you factor in those who have the greater challenge with a product by casting the widest net possible, you not only ensure you're inviting people to the table who were never invited before, but you also make the product better for those who already were there."
As the news editor at COMPLEX and author of Reparations: Style + Soul, James Sanders is active in the fashion and beauty communities, but struggles with insecurity and physical discomfort due to an autoimmune disease called dermatomyositis. Sanders' condition impacts the bones, and most prominently, the skin. Flare ups can be severe enough to affect one's ability to walk and can cause rashes and discoloration in the face as well as other parts of the body.
"Working in fashion, I went from using makeup as a tool of enhancement to living with a disability and utilizing makeup as a means to an end. During a full relapse and breakout, makeup can make a difference in covering unsightly blotches of discoloration that leave me feeling embarrassed and self-conscious," Sanders shares. "But when not fully recovered from dermatomyositis, the bones and activity of limbs aren't as strong as normal. This makes it hard to hold steady, something as simple as an eyebrow pencil."
Why Representation In The Beauty Industry Matters
Before beauty brands started putting research and money behind mobility-friendly products, the beauty and fashion industries were making efforts to be more inclusive in their ad campaigns. The world celebrated when Benefit featured Katie Grant, a model with down syndrome in its 2019 Roller Liner campaign; Jillian Mercardo, a model who lives with spastic muscular dystrophy, broke barriers when she was the first person in a wheelchair to participate in a Diesel campaign in 2014; and the beauty community raved when Wet & Wild released their 2017 campaign with the late Mama Cax, a Black woman with an amputated leg.
While these campaigns were a step in the right direction, they didn't necessarily provide full visibility to the disabled community at large. Take the aforementioned Mama Cox Wet N Wild campaign, for example. The concept was groundbreaking, but the images missed the mark because Cax's amputated leg wasn't visible in them. This choice is a reflection of how society tends to erase those with disabilities: if a limitation isn't visible, then it doesn't exist.
"The beauty industry does not have anyone with a disability to represent the disability community," Rebeca Gonzalez, a TikTok beauty influencer with cerebral palsy, says of the lack of regular representation in major campaigns. "They don't have a model showing a beauty product in a commercial or an ad. They attract any other community but the disability community." Despite her CP affecting most of her right side and her ability to speak, Gonzalez, who has over 600,000 followers, is still able to make videos to connect with people. Because of this, her CP is often questioned online.
"You may guess I have a disability because of my wheelchair, but at first sight you wouldn't think I have CP, which is why some people on social media don't believe I have it," Gonzalez explains. "Honestly, I tend to not shop in stores for the simple fact that online is easier for me. I think if I were to go into a beauty store, workers would be nice and smile, but would not offer assistance because they do not expect people with disabilities to be into makeup."
Sanders further amplifies the point that disabilities are something still considered taboo in the beauty industry, and that beyond campaign visuals, inclusivity and training need to be a priority. "Beauty doesn't look disabled — and I think that's a problem," he says. "In order to understand, one has to consider a perspective, but how can this happen if the perspective isn't considered legit in the beauty space in the first place?"
How The Beauty Industry Can Move Forward
According to the CDC, one in four women in the U.S. have a disability, and 13.7% of U.S. adults have a mobility disability with serious difficulty walking or climbing stairs. So while brands like Guide Beauty and tools like Hapta exist, a Proctor and Gamble study states only 4% of companies are actively creating accessible products.
So where does the beauty industry go from here? In addition to having more accessible product options than what's currently available, Reynolds and Gonzalez think beauty brands should have a more progressive idea of what inclusive beauty really means.
"Have actual people with disabilities and talent represent the beauty industry so that all of us in this community can fit the 'look', too," Reynolds says. "Featuring those with disabilities in campaigns will allow us to see ourselves and inspire us to look into the makeup products those with disabilities are wearing. Also, children will be able to see that their disability does not define them and they can do big things when they grow up," Gonzalez further explains.
Sanders says to remember that beauty is in the eye of the beholder — even if the vision is slightly different than the "perfect" ideals.
Finally, Reynolds stresses the importance of humanizing those in the disability community. "Even though my disability gives me emotional and physical challenges, I am just like everyone else," she says. "I am human just like you."
According to a consumer study, 57% of Americans agree that beauty brands have a responsibility to de-stigmatize flaws, and that 38% of 18 to 24-year-olds have purchased from beauty brands that promote diversity. The need for more representation in the beauty industry and its product offerings is one that many Americans stand behind. But it's a matter of more brands opening their ears to said consumers, and adapting their practices to create a space where makeup is not exclusive of anyone.