5 Major Reasons Pumpkin-Everything Is Perfection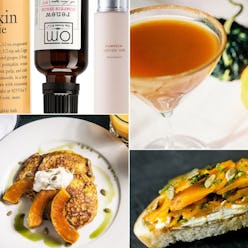 Ever since pumpkin became the star player in a delicious latte, the fall staple has made its way into countless other aspects of our lives, from our cocktails and dinner to our beauty products and DIY projects. Who knew this fruit (yes, it's a fruit) was so plentiful? We did! Here, see how the pumpkin has made this our favorite season of the year. Orange you excited?
Orange Is The New Black
#1: It's The Perfect Ingredient For DIY Skincare Recipes
There's nothing like a stay-at-home spa day, especially when you can incorporate some of your favorite fall ingredients into your beauty routine. This pumpkin face-mask recipe softens your skin and gets your complexion glowing no matter how gloomy the weather gets.
#2: It Makes A Fabulous Martini
Leave it to Vail, Colorado's reigning queen of fine dining, Kelly Liken, to brilliantly morph a tried-and-true fall dessert into a classic cocktail. Click through for the recipe and start sipping.
The Recipe
#3: Picking The Best One Is An All-Day Affair
Planning a day at the pumpkin patch is just as much about an #OOTD photo op as it is about finding the perfect gourd.
#4 It Tastes Good In Everything
We bet you never thought to put pumpkin on your pancakes. Click here for more sweet and savory deliciousness.
#5: It Makes The Best-Smelling Beauty Products
This season, indulge in pumpkin pie without counting calories, thanks to these rich beauty products that make your skin look beautiful while releasing the spicy scent of homemade holiday treats.