31 Natural Hairstyle Ideas For Every Single Day In May
Instagram.com/beyonce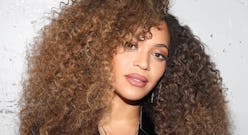 One standout quality of natural hair is its ability to be styled in a multitude of ways — Fulani braids, Marley twists, sky-high updos, and cropped cuts only scratch the surface. On one hand, having so many easy natural hairstyle ideas is a good problem to have... you'll never run out of options. On the other, deciding on your next style can feel a bit intimidating. Do you take the plunge and dye your hair platinum for the summer? Or do you spend eight hours in the salon chair for butt-length box braids? The options are endless.
Even though the decision-making process might be daunting (good luck!), luckily, there's plenty of inspiration to pull from. Stars like Beyoncé, Tracee Ellis Ross, and Kiki Layne use their hair as a canvas to create all kinds of magic. Celebrity hairstylist Nai'vasha Johnson, whose clients include Serena Williams, Yara Shahidi, and Thandie Newton, agrees. "I'm looking forward to lots of hair freedom," she tells The Zoe Report. "I think we can look forward to spring dripping with hair jewelry — statement barrettes, combs, and pins to accentuate fun textures."
If accessories aren't your thing, there are still plenty of classic cuts, sleek ponytails, and simple, strong Afros to try. I mean — you have an entire month to experiment, after all. Let the games begin.
High Braided Bun
Naomi Campbell kept cool — and looked cooler — in Nigeria by sweeping her braids up into a half bun on Apr. 22.
High Bun
At the 2019 NAACP Image Awards on March 30, Tracee Ellis Ross wore her curls in this darling topknot and pompadour combination, styled by hairstylist Araxi Lindsey. Be sure to have plenty of bobby pins on hand for hold.
Bowl-Cut Bob
For mom Diana Ross' 75th birthday bash on March 27, Tracee gave her curls a rest and opted for a classic wig bumped at the ends.
Beaded Braids
Make no mistake — hair beads aren't just for the youngins. At Coachella 2019, Justine Skye added a playful touch to her Fulani braids by adoring them with neon green and clear adornments.
Feed-In Braids
The key to getting your parts as neat as Skye, as seen at an Apr. 4 event, is to use a tail comb for sectioning.
Wrapped High Ponytail
For a day of Hellboy press on Apr. 8, Johnson gave actress Sasha Blane a curly loc pony. An easy way to conceal your elastic is wrapping it with a couple of pieces around the base, as seen here.
Big Natural Volume
"Serving all natural curly hair: checked," Neal Farinah, Beyoncé's longtime hairstylist, captioned Apr. 28 after the Queen attended an intimate Jay Z concert (wearing hubby's Roc-A-Fella chain, nonetheless).
Slicked Back Low Ponytail
For a sleek base like Logan Browning's (as seen at the 2019 GLAAD Media Awards on March 28), brush your hair back after applying a non-crunchy holding gel. Tie it down with a silk scarf and let your hair air-dry overnight... but you can use blow dryer to set it if you're in a rush.
Fishtail Braid Bun
Tessa Thompson radiated on the Apr. 23 carpet for the premiere of Avengers. Superstar stylist Lacy Redway gave her client a bit of volume in the front, and twisted the back into a series of beautiful braids.
Jumbo Plaits & Swooped Edges
Redway continued her reign of regal braids at the Apr. 1 premiere of Little Woods, where Thompson rocked waist-length French plaits with edges swooped to the high heavens.
Braided Bun
For neat cornrows like Alexandra Shipp's (styled by Larry Sims for the 2019 GLAAD Media Awards), moisturize your hair with a leave-in conditioner and lightweight oil before the braiding process to control flyaways.
Fulani Braids With Wooden Beads
For a Black Design Collective event on Apr. 13, Sims adorned Gabrielle Union's neat center-parted plaits with neutral wooden beads.
Bone-Straight Blowout
A few days later, Union switched things up with some seriously straight hair. Before flat ironing, Sims prepped her hair with products from the star's Flawless haircare line.
Silk Press
Thinking about getting a silk press like Sanaa Lathan's Apr. 8 look? Use a heat protectant before applying heat to your hair to avoid excessive damage.
Jumbo Box Braids
Box braids are a beloved protective style for a reason: they're universally flattering, last for a good month or two, and require minimal upkeep. Pro tip: opt for jumbo braids like Marsai Martin (as seen on Apr. 18), as they take less time to complete and look just as good as smaller ones.
Low Pony With Gilded Center Braids
Marsai's Little press run looks nail it every time. Case in point: this polished ponytail she wore for the Apr. 9 movie premiere. The gold lace weaved throughout the two braids in the middle by hairstylist Ashley Noel was a glimmering addition.
Blinged-Out Baby Hair
At the 2019 NAACP Image Awards, Martin dazzled with her gemstone-accented edges. Just use a little bit of eyelash glue on the back of your rhinestones for maximum hold — a tiny dab does the trick.
Braided Tendrils With Beads
Issa Rae, Marsai's Little costar, wore a neat, sleek ponytail with a touch of texture, thanks to her subtle braided tendrils (done by Felicia Leatherwood).
Half-Up, Half-Down Curls
Rae's curls looked so soft and bouncy at the 2019 Beautycon Festival in New York City on Apr. 6. Weekly deep conditioning treatments are of utmost importance for keeping color-treated healthy and moisturized.
Braided French Twist
Recreate Yvonne Orji's NAACP Image Awards updo (styled by Nicky B.) by pulling your braids up high and to the side with a wide elastic hair tie. Twist, roll, and secure with another elastic over your bun.
Cropped Curls
Gugu Mbatha-Raw's short, curly cut (styled by Fraçois) looked so defined while promoting Fast Color on Apr. 8.
Tapered Platinum Blonde Afro
Cynthia Erivo's tapered platinum blonde 'fro (styled by Coree Moreno) looked like a work of art at 2019 NAACP Image Award. Use a purple toning shampoo in your routine to keep your blonde tresses in tip-top shape.
Segmented Ponytail With Box Braids
Kyanna Simone Simpson of Chambers wore "magical hair" for the Apr. 15 premiere. Rubber bands are your best friend when it comes to creating a segmented ponytail like hers.
Big Braided Ponytail
Amanda Seales' Apr. 18 ponytail, also styled by Nicky B., is so simple — just gather your hair in a high pony, section into fours, braid from top to bottom, and wrap with a bit of braided extension hair.
Locs Two Ways
For the DVF Awards on Apr. 12, Chloe Bailey wore her locs swept to the side while sister Halle pulled hers into a messy half bun.
Afro With Front Cornrows
Kiki Layne's hair, as seen at the 2019 NAACP Awards, deserved accolades of its own. Redway braided the front in four jumbo cornrows, leaving the rest of Layne's 'fro loose and fluffy.
Long, Bedazzled Twists
Johnson assembled Layne's gorgeous twists into a half-up, half-down style secured with glittering crystal barrettes at the premiere of Native Sons. on Apr. 14.
Jumbo Cornrows
Pose star Indya Moore wore her glorious curls in six big braids for the 2019 Time 100 Gala. And stylist Sabana Majeed wasn't precious about sizing, either — the variation made for such a cool finish.
Short Cornrows
"A little stationary accessory going on," Vernon François captioned of Dewanda Wise's gilded braids for a day of press on Apr. 17.
Crown Braid
And on Apr. 3, François gave Wise a wraparound braid fit for a queen.