12 Box Braid Hairstyles For Summer That Aren't A Boring Ponytail
Getty/ Amy Sussman / Staff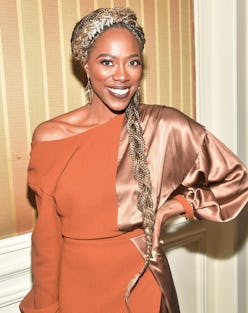 Box braids and protective styling have existed for centuries, this we know. But this new wave of box braid hairstyles, done by celebrity stylists and local pros around the country alike, pay homage to the style's heritage and add a touch of modernity to the look, too.
"Within the Black community, braiding hair is very much a right of passage," braid expert Kamilah, or @mshairandhumor, tells The Zoe Report. "The art and skill of braiding is observed, taught, and passed on generation to generation. This sharing between generations is where we are all linked, making braids an integral part of our community and form of expression."
Aside from that connection to heritage, protective styles are super low-maintenance in upkeep, which is essential for temps that refuse to drop. Plus, box braids allow you to give your natural hair a break from heat styling and overwashing, too. "The options are endless especially when the braids don't hurt," Kamilah adds, citing the knotless box braids that continue to dominate social media.
To create box braids, the stylist will start by shampooing, deep conditioning, detangling, and blow-drying your hair before the braiding begins. Afterwards, your braider will section off your hair into small squares — hence the name box braids — depending on how thick or thin you'd like your plaits. The actual process of braiding your natural hair with extensions can take all day (sometimes as long as eight hours), so prepare to arrive with some snacks and a good book to keep you preoccupied.
In addition to the endless creative options that the braids offer, another appeal is the longevity that the style provides. "Box braids can last through hail, sleet, snow, and rain, so it's only right they hold us down for the summer, too," Kristal of @braidsbykristal tells TZR. She notes that box braids hold up at the go to the beach and in water, too.
But like all good things, the style doesn't last forever. Most stylists recommend keeping them in for up to eight weeks, because your new hair growth underneath the weight of the added hair can possibly cause your natural hair to break off.
Scroll ahead for a dose of summer inspo, and don't forget your bobby pins!
This article was originally published on