14 Beauty Secrets For Women Over 50 That Celebrity Makeup Artists Swear By
JC Olivera/WireImage/Getty Images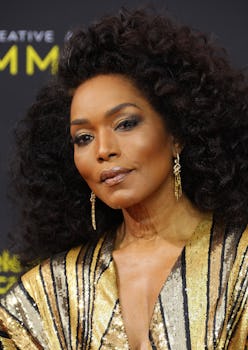 In 1513, explorers from Spain stumbled upon The Fountain of Youth, an iconic spring in what would later become Florida that promised eternal juvenescence for anyone who dared to bathe in or sip from it. Five centuries later, those same promises now come in the form of, well, beauty products, many of which swear they offer similar results. However, the 1500s have come and gone, and the beauty of the natural aging process is something that women are embracing with open arms. It's for that reason that most makeup tips for women over 50 — as curated by celebrity artists who work with stars like Viola Davis and Kris Jenner — are all about embracing, rather than hide, changing skin. The key to flawless makeup for mature skin isn't as complicated as it may seem. In fact, it's really just about simplification.
"The most noticeable changes that happens to skin as it matures are the development of lines, wrinkles, and sometimes an increase in pore size," makeup artist Autumn Moultrie, who works with Davis, tells TZR. "Additionally, there's an overall dulling of the skin." And while many women try to combat that by piling on the products, the secrets to keeping makeup radiant and in place proves to be a much-needed lesson in getting back to the basics.
While your vanity might be pared down, it doesn't mean that the fun has to stop. "Makeup is for playing. There's no age limit on what anybody wants to do and it always washes off. There's always a way to spin any trend to work with your lifestyle, age and needs," makeup artist Joanna Simkin, whose clients include Vera Wang and Cynthia Erivo, tells TZR.
So as the time comes to embrace new enlightenment, new knowledge, and another decade of opportunity, Ash K Holm, Jenner's go-to glam girl, encourages women 50 plus not to shy away from expressing yourself. "The beauty of makeup is that it's art and you can adjust the trends to your style and personality accordingly," she says.
In celebration of embracing beauty at any age, check out 11 tips that will make 50 and beyond your best glammed era to date.
1. Only Use Foundation Where Needed — Or Not At All
Simkin insists that too much of a base won't make for a skin-like finish. "If possible, avoid a full face of foundation," she says. "It settles into lines and can look cakey and crepe-y. Use a damp sponge or fluffy brush to apply sheer washes where needed only."
Moultrie suggests using a brush with a very small amount of foundation for the entire face. "The foundation should taper off to nothing — if possible — around the perimeter of your face."
2. Choose A Hydrating Primer Over One That Mattifies
With age, increased dulling of the skin calls for more hydration — and your primer can aide with that. "CoverFX makes a primer for all skin types. The Water Cloud Primer has a cooling feel to it," Holm says. "It protects skin from pollutants and smooths the texture without taking away from the skin's shine."
3. Show Off Your Eye Shape With Falsies, But Don't Go Overboard
"Use smaller lashes with flexible bands," Simkin says. And when it comes to application, switch-up your angle. "Hold a mirror below you rather than in front to allow full access to the top of the eye and let the glue get very tacky for 30 to 45 seconds so the lashes grip immediately."
4. Be More Precise With Eyeshadow Application
"Eye primer is great and placement is key," Simkin says, as eyelid skin tends to grow looser with age. Additionally, be sure to keep shadows on the lids rather than reaching into the crease, she adds. "Switching to softer tones and keeping shadow closer to lash line work wonders. Try not to extend too much above the crease."
5. Add Luminosity To Your Skin With A Cream-Based Blush
"As we age, we're looking for increased brightness. Blush wakes a face up," Moultrie notes. Holm echoes those sentiments and asserts that a radiant cheek is a must. "Smile when applying blush to make sure it's always on the apples of the cheeks," she says. "And try mixing your highlighter with blush for a cheeky glow."
6. Sheet Masking Is The Key To Avoiding Creasing Under The Eye
"Hydrate your eyes with Karuna Renewal Eye Masks before applying concealer to hydrate the skin. Sometimes you won't even need to set your concealer if it's a daytime look, because your under-eyes will have maintained that moisture," Holm says.
7. Don't Be Afraid Of Highlight And Contour
"Highlight and contour is for everybody," Simkin assures. "Use a creamier concealer to highlight and sheer shading products to contour."
8. Find A Concealer That Provides Coverage, But Not Too Much
"I would not recommend using a heavy concealer under the eye for mature skin," Holm says. "Our skin's elasticity changes as we age, so using products that are more hydrating and lightweight are better on the skin." Moultrie agrees, suggesting Glossier's Stretch Concealer because of its expansive strong shade range and natural finish.
9. Beware Of Drying Matte Lip Finishes
For lipstick lovers, Moultrie suggests satin-finish products to distract from any lines on the lips. "I don't care too much for an extra-matte lip on women over 50," she notes. "Instead, I use a smoother finish for added hydration and shine."
10. Use Highlighting Balms Rather Than Powder Formulas
"When it comes to highlighting mature skin, use a balm," Moultrie suggests, explaining that an emollient texture provides a more natural finish than a powdery one. "Brands that have great ones are Pat McGrath Labs, Westman Atelier, and Chanel. Just tap it into your cheekbone with your finger."
11. Baking Is The Biggest No-No Of All
One of the biggest fears for women over 50 with makeup is the inevitable creasing of finishing powders. It's for that reason that a lighter application is a must. "Do not attempt to 'bake' the powder," Simkin says. "Lightly dip loose powder on a fluffy blending brush and gently roll it across areas that need setting."
Moultrie agrees. "I insists on minimal application of translucent powder on the T-zone. Shiseido makes a great one and Laura Mercier's formula is also perfect for the under eye."
12. Mix Your Makeup And Skin Care
Makeup artist Stephen Sollitto, who recently worked on Andie MacDowell's glam for her TZR cover revealed that to achieve the actor's glowing and clear complexion he mixed in a bit of facial oil into the (very little) foundation he used to essentially create a tinted face oil — "That way it pulls your skin coloring together without gathering in fine lines too much," he tells TZR.
13. Tightline The Upper Lashes
"I like to tightline under the upper lashes with a dark navy liner," makeup artist and beauty expert Jenny Patinkin tells TZR. "This helps to make the base of the lashes look thicker, defines the shape of the eyes and the blue undertone makes the whites of the eyes pop really bright." The best part? This trick works on all skin tones and all eye colors.
14. Use A Damp Beauty Sponge After Foundation Application For A More Natural Look
"After I apply foundation, I gently pat a slightly damp sponge all over the face to lift away any excess product, and then I tap anything the sponge has picked up onto the ears and down onto the neck," Patinkin says. "This helps to both give better wear time and create a more natural, seamless look. I love to use my Green Tea Makeup Sponge for this because it is so soft, it feels lovely while blending perfectly."