10 Black-Owned Beauty Brands I'm Buying Gifts From This Season
Hanahana Beauty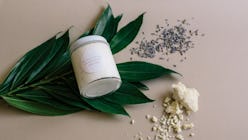 One of my favorite parts of being in the beauty industry isn't the cool products or the travel perks (even though those are always nice). I love being able to help people discover a life-changing mask or a can't-live-without lipstick... really, anything that makes them feel just as beautiful on the outside as the inside. So, as you can imagine, most of the presents that I give out during holiday season are from beauty brands. Especially Black-owned beauty brands.
I'm very happy about the strides being made regarding inclusivity in this industry — we're seeing more models of color, more examples of representation, and more products that suit a vaster range of skin tones. But among all of this newness, I think that people tend to forget to support brands that have already been doing all of the above — and way more — for years. It's really easy to rack up on go-to brands during Black Friday sales, or make a quick run to Ulta and Sephora for a luxury gift set. However, in this season of giving, I want to give my money to the brands that deserve just as much shine. Not even because they're owned and operated by Black women (though obviously, that's a plus) — but also because their products are just really, really good. See the ones that are in my cart, ahead.
Epara Skincare
Some of my favorite beauty products are the ones that other beauty editors are obsessed with, too. So many of my friends sing the praises of Epara, a luxury skincare line made with melanin in mind. Founder Ozohu Adoh, who is Nigerian, crafted products "containing precious botanicals, essential oils, and plant extracts within its advanced scientific formulas that cater to the underserved needs," according to a release. The Intense Hydrating Mask has kaolin clay to draw out impurities, along with marula and moringa oils for hydration and glow.
Mented Cosmetics
I've already yelled from the rooftops (loudly and proudly) about Mented Cosmetics' innovative line of nude lipsticks, glosses, nail polishes, and an eyeshadow palette. This fall, the brand launched a line of red lipsticks geared toward women with melanin. And none of them require pencils, blending, mixing, and matching... unless you're into that sort of thing.
Juvia's Palace
There's a reason why every palette from Juvia's Place, an African-inspired line started by Chichi Eburu, tends to sell out. The colors are so rich and pigmented, meaning that there's never a streak struggle while applying it on darker skin.
Hanahana Beauty
Here's another editor-favorite brand that's always popping up on my newsfeed. On the brand's website, Ghanian founder Abena Boamah said that she was inspired by the remedies that her mother used. "As a child, my mother would heat up shea butter and cloves and add them to her own body butter concoctions for our family," she wrote. All of the products, including the Vanilla Lavender Shea Body Butter, are made from the Katariga Women's Shea Cooperative in Ghana, and paired with natural oils.
Base Butter
I love the way that Glossier's Milk Jelly Cleanser makes my face feel so bouncy and look glowy. Base Butter, a line started by Howard University alumna She'Neil Johnson, offers an aloe vera and lavender moisturizer with those same effects.
Dope Queen Cosmetics
"My sister and I founded Dope Queens last October because we believe women of color are still underrepresented in the beauty industry," LaPorsha Campbell, a founder of the new cosmetics company, tells TZR via email. "With 10 gorgeous shades to choose from, customers who visit our online store are guaranteed to find something they love." My personal favorite is Mandy, a deep, rich wine.
Lit Brooklyn Candles
Lighting a candle is one of the first things that I do after a long day of work. Lit Brooklyn, founded by Denequa Williams, offers a vibrant selection of hand-poured soy candles that deserve a place on my coffee table. They look good and smell even better.
Luv Scrub
People used to make fun of Luv Scrub founder Caroline Owusu-Ansah for the mesh exfoliator that she kept in her shower. But she got the last laugh — this traditional Ghanian washcloth makes skin so shiny and smooth.
Fenty Beauty
I never need an excuse to re-up on Rihanna's Fenty Beauty, one of my favorite prestige brands. But these frosty highlighters will look especially nice underneath the twinkle of holiday lights, no?
SDot Beauty
Stephanie Coker had a 15-year career in the fashion industry before investing in her natural and organic beauty brand, filled with tons of effective skin, body, and hair products that are all free from dyes, alcohol, and mineral oil.