Steadfast Herbs' Plant Medicine Provides Support To Queer Communities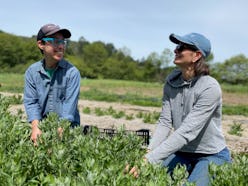 We may receive a portion of sales if you purchase a product through a link in this article.
People often arrive at plant-based healing modalities out of sheer frustration that what they're feeling — whether mentally, physically, or emotionally — isn't being seen. Such is often the case for queer communities, which may find Western medicine to be a less-than-safe space when it comes to tolerance, acceptance, and understanding of some of their most common wellness concerns, from treating trauma-induced stress and anxiety to receiving gender-affirming support. It's no wonder, then, that so many in the communities flock to non-institutional practices as a solution. In fact, it was just such a circumstance that led Finn Oakes, co-founder and co-farmer of Steadfast Herbs, to delve into the world of plant medicine and ultimately create a refuge for others.
Oakes, who runs Steadfast with fellow farmer and herbalist Lauren Anderson, found their way to plant-based healing first through an interest in gardening. "I was not raised around herbal medicine at all and really came to it in my late 20s," they tell TZR. "I sought out an herbalist for nervous system and trauma support, and it was really effective for me, and I got curious. And that was also around the same time that I was getting involved in gardening and getting educated, so it just felt like I was more and more drawn to medicinal plants."
After receiving gardening training at Garden for the Environment in San Francisco, Oakes followed their interest in plant medicine to the Blue Otter School in Siskiyou County to study "energetic herbalism," which they describe as "a modality that holds the interconnectedness of mind, body, and spirit." Around a decade ago, they met Anderson working with urban project The Free Farm in San Francisco, and they bonded over their mutual backgrounds as artists and gardeners. From there, Steadfast was formed to help pass onto others their passion for plant medicine. In addition to sustainably farming plants with a long history of healing, Steadfast creates its own community-supported agriculture (CSA) boxes, teas, tinctures, and topical remedies geared to offer nervous system and immunity support (among other common health concerns) to those within their community and beyond.
Oakes, who was trained under Choctaw teacher Karyn Sanders, is quick to acknowledge the fact that they are a white person working in a field that has a long and sacred history with Indigenous people. While in her teachings, Sanders did not share certain Indigenous practices outside her community, she did impart Oakes with knowledge that shapes Steadfast's fundamental beliefs and practices. In particular, she focused on creating non-extractive relationships with plants by avoiding wildcrafting, or harvesting plants from their natural habitat for medicinal purposes. "[I wanted to create] a place where plants are cultivated, not just taken from wild spaces, because you don't know who might have been tending to that space, tending to those plants," says Oakes. "You just come in and take. And you might be taking people's medicines."
This isn't the only way Oakes and Anderson honor their local native population. "It's complicated, being settlers and living and growing on land and having a land-based business, so one thing that we do is pay land tax," Oakes says. "We pay land tax to The Sogorea Te' Land Trust, which is East Bay. We're also in a new relationship with Amah Mutsun Tribal Band and Amah Mutsun Land Trust that are located just south of us." Additionally, Steadfast provides the latter with free herbs, from which they can make their own medicines. It also donates immunity tinctures to local nonprofits to support the staff with common issues and ailments like burnout.
It's also worth noting, as Oakes explains, that Western herbalism as it's known today was popularized by white settlers, primarily herbalist and author Michael Moore in the 1970s. And while the Steadfast co-founder is happy that plant medicine has become more available in recent years due in part to teachers like Moore, they stress the importance of crediting its true roots: communities of color. "Western herbalism has also taken from Ayurveda, from [traditional Chinese medicine]," they tell TZR. "Western herbalism has often been [spearheaded by] white teachers, white practitioners, without giving credit to the BIPOC herbalists who have given them this knowledge."
The exclusivity Oakes sees in the modern wellness industry has also led to what they believe to be a misguided sense of achieving perfection — something that often feels only available to certain communities. "My concern about the wellness world as I'm witnessing it is that there's a very white supremacist ideology," they explain. "Ableist, inaccessible, fatphobic, you can put all these terms on it, but it's part of a larger capitalist narrative, that you can spend your way to happiness and perfection — which isn't true." Rather, the work Oakes does (both with Steadfast and within their own private practice offering herbal mental health support to other queer and trans folks) aims to offer some relief to real world problems without the promise of a pain-free, worry-free life.
"For me, herbal medicine really isn't about healing in this capital-aged way that means you're never going to feel anxious," they continue. "I have clients who are like, 'Why am I not happy all the time?' And I'm like, 'Because you're not meant to be. It's an appropriate response to feel anxious in this world. It's an appropriate response to feel grief and rage.' So the idea is not to take those negative emotions away, but to help people have resiliency and find coping strategies and ways to feel alive."
Additionally, it's not Oakes' or Steadfast's goal to replace Western medicine. It is important to them to be very transparent about the fact that they are not a doctor or a therapist, and therefore have some limitations of knowledge and practice. "I'm also very supportive of pharmaceuticals — I think that they're life-saving," they explain. "So just seeing herbs often as a complement and not necessarily as a replacement. And just being part of someone's care team, too. I think psych meds are great. I'm never going to shame someone and say, 'You should take this instead.' So instead, it might be dealing with any side effects, or these meds are great for this but you're still having anxiety."
As a part of such a "care team" in tandem with a general practitioner, a therapist, or whatever else your personal health might require, Steadfast's many offerings help with symptoms such as digestive upset, anxiety, or difficulty with sleep. "Generally what we are selling is nervous system support," Oakes says. "So, sleep tinctures, some anxiety tinctures, nervous system tonic, adrenal support, and calming teas are what sell the most. Associated with those things are immune support and digestion support. Both of those things are often impacted by stress or trauma. I think it's fair to say everyone is stressed out and maxed out or in crisis given our current political and environmental climate." And because Oakes recommends such solutions as only being a part of your overall personal plan, it is always important to loop your primary care practitioner into whatever medicine (plant-based or otherwise) you may be taking.
So what makes Steadfast's work speak specifically to queer communities? For one thing, the fact that Oakes and Anderson are transparent about their own identities and orientation creates an immediate safe space. Beyond that, the herbalist points to economic limitations — often as a result of employment discrimination — or simple lack of understanding that other queer people have found within the Western medicine world. "Some [queer] people definitely [come to plant-based medicine] through frustration," Oakes explains. For example, a $15 tincture may be a lot more accessible than a $500 doctor visit without insurance. Additionally, according to Oakes, the average intake for herbalists is around two hours, which allows more time to discuss the complexity and nuance of any health concerns (such as trauma or dysphoria) that isn't always available with Western doctors.
As for Oakes' favorite products to add to your personal health care routine, they say Steadfast's seasonal CSA boxes ($60 and up) are a great starting point. Offered on solstices and equinoxes, these boxes of five varying remedies (a tincture, a topical, etc.) offer a unique way to connect customers to the seasons. Other great entry points include their "vibrant, really really fresh" teas ($10-$12), which Oakes explains are a very unique offering, as well as their No. 1 seller, the Stress & Anxiety Support Tincture ($15). And not only does making a purchase from Steadfast help Oakes and Anderson continue offering accessible forms of healing to marginalized communities, but it also helps connect its consumers to the land — a relationship that is paramount to the work they do.