Tennis Player Sloane Stephens Sticks To This Nightly Tea Ritual To Recharge
It was passed down from her Trinidadian grandparents.
Sloane Stephens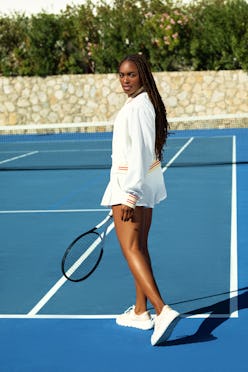 Sometimes it's the smallest changes that can make a big impact. This rings especially true when it comes to one's health. In TZR's series Step-By-Step, tastemakers speak to the minor moves that can lead to mighty changes.
Sloane Stephens has had a busy year. The globally ranked and recognized tennis player, who has seven WTA Tour titles under her belt, has circled the globe competing in tournaments (including this week's US open in New York, which she exited on Monday Aug 28) while also squeezing in a major home move with her pro soccer player husband Jozy Altidore and several brand sponsorships to boot.
But amidst all this movement — literally and figuratively — the athlete likes to keep some semblance of a routine when it comes to her health and fitness life. Most days, including those in which she's training for an event, consist of early morning warmups with "medicine ball things, plyos, cardio," tennis for a couple of hours, lunch breaks with her husband (which include the occasional splurge of beer and tacos), and the rest of the day is spent on any other business or personal tasks on her agenda.
And while one might think the tennis pro would want to mix things up and indulge in other forms of exercise from time to time, Stephens explains that she's hesitant to deviate from her home sport, especially after experiencing past injuries. "Anytime I try anything new, I get sore somewhere or injure something else," she says. "And so, I try to stay away from [things like] boxing. I love kickboxing, but I really can never do anything with my hands. And I'm always really nervous because I need my hands for obviously playing tennis."
That said, Stephens and her husband have recently gotten into a leisurely cardio workout that requires little to no upper body strain: walking. "My husband and I have been trying to get 10,000 steps a day," she says. "At night we'll just go for a walk somewhere that we would normally drive to. We'll be like, 'Oh, we'll just walk to the store, we'll get those extra steps in.' And I think that's been something that we've been able to do together, which I've enjoyed a lot."
The tennis star also likes to level up where she can. These days, considering her US Open training and the general sweltering heat of summer, adequate water consumption has been a top priority. Admittedly "bad with hydration," Stephens says she's figuring out ways to ensure she's drinking enough water to keep her body healthy and functioning at its highest level. And sometimes, that means upgrading her drinks to keep things exciting. "Lately, I've gotten really into doing lemon water when I can't take any more [plain] water because it tastes like literally nothing," she says with a laugh. "Finding things to put in my water, like lemons, limes, oranges, whatever, spicing it up [is key]."
And the hacks don't stop there. Stephens has also jumped on the wellness shot bandwagon, creating her own concoctions at home. "Ginger, lemon, honey — [I make] little freeze pops for my tea," she says. "That's something that I've implemented. My grandma used to make them for me when I was really young. And I just was like, 'you know what? I'm going to start doing it.'"
The athlete goes on to explain that herbal teas are another crucial part of her wellness routine, and something that has also been passed on by her Trinidadian grandparents. "I have my hot tea, which is like my winding down tea," she explains. "And it's something I've done my whole life. My grandpa [...] was really into growing his own mint leaves and having his own peppermint [tea]. I've definitely gotten into that way more in the last couple of years. It's definitely helped with bedtime to just relax me and get ready for bed."
This ritual also comes with mental and emotional benefits, as it allows Stephens a sense of comfort and a feeling of home no matter where she finds herself in the world. "Whenever I go away somewhere, I know I'm going to be in a different controlled environment," she says. "I'm going to be in a hotel, I'm going to be somewhere new. That's always something that brings me back. Being able to have my tea and just relax and wind down with something that's very familiar to home, for me to call home."