Why Having A Micro Wedding Was The Best Decision I Ever Made
I prioritized my mental health.
Lindsay Hattrick/TZR; Getty Images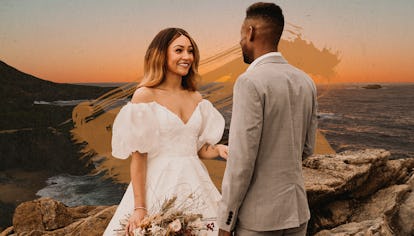 Planning and hosting a wedding requires a lot of mental and emotional energy. And for someone like myself who has struggled with generalized and social anxiety as well as panic attacks for decades, this is even more so true. Which is one of the reasons my now-husband and I opted for an intimate elopement-style micro wedding. Spoiler alert: It was the best decision for my mental health. We had the best time planning our wedding day in a way that aligned with our values and moved at a pace that felt right for us. We intentionally designed every detail to make us feel grounded, safe, at ease, and — most importantly — happy.
Was it difficult not to invite many friends and family to our wedding? Absolutely. We didn't want to hurt anyone's feelings, nor did we want to feel judged for ditching tradition. Ultimately, it was our wedding, and preserving my mental health outweighed the fear of what other people may think. And the truth is, we knew that the people who care about us would understand and respect our decision and be genuinely happy for us regardless. And we were right.
The Importance Of Planning Your Wedding Your Way
Every aspect of life, including weddings, comes with societal expectations and traditions that make many of us feel pressured into doing things according to the status quo, even if it's not necessarily what we want or supportive of our well-being. "Social conditioning from an early age teaches us to abandon our needs in order to please others or live in accordance with society's expectations," explains licensed clinical psychologist Dr. Nina Polyné. Even though these expectations aren't explicitly stated or written in stone anywhere, Dr. Polyné adds that you may still feel its emotional weight.
Still, planning your wedding (or any other significant life event) according to your preferences and needs is the ultimate act of self-love, Dr. Polyné says, and that spills over into other areas of life. "Honoring your needs and preferences upholds our well-being, and we are then able to show up authentically not only at the wedding but in future similar situations," she continues. "It can give us the confidence to continue upholding our preferences in life, and likely we will feel less resentful in our close relationships and allow more love to show up toward ourselves, and subsequently within our important relationships." Plus, she adds, doing things your way as a couple creates mutual fond memories you can look back on.
How to Plan A Wedding That Supports Your Well-Being
All that said, how do you do this? Dr. Polyné recommends clarifying why it's important for you as a couple to prioritize your well-being and honor your preferences when planning your wedding. That why is your motivation. Also, she advises identifying what values are important for you in general —then, based on those values, set small wedding planning goals that align with them. Ticking these small goals off, she says, will provide confidence and encouragement to continue planning a meaningful wedding. So in short, get clear on what matters to you and supports you collectively as a couple, and plan your wedding accordingly.
For my husband and I, one of our values was intimacy. We wanted it to feel like a private elopement but still have our closest loved ones there to share the special moment, so we landed on a micro wedding. And when I say micro, I mean micro. Our ceremony included myself, my husband, our parents, and our siblings (and our officiant and photographer).
Another top priority for us was ease because, in my experience, more ease equals less stress and anxiety, but we also didn't want to sacrifice style. We wanted our wedding to look and feel luxurious, sprinkled with magical, fairytale vibes. To achieve this, we opted to have our elopement-style ceremony at the beautiful Langham Huntington Hotel nestled in Pasadena, California. The venue was truly perfect because not only was it the most beautiful backdrop — we said our "I Dos" in the hotel's stunning Japanese garden complete with lush greenery and a waterfall pond — it was also close to where we live, which helped things go super smoothly.
Also, because we wanted the day to feel as much like an elopement as possible, instead of having a reception, we carved out the evening of our wedding day to have to ourselves, allowing us to take it all in. We ordered a steak dinner to be delivered to the cottage we stayed in, drank Champagne, had our first dance in the living room of the suite wearing fuzzy slippers, and concluded the day by exchanging our vows.
All in all, the entire day felt very us (Side note: We're untraditional in many other ways). And rather than feeling the emotional and mental drain of a "traditional" extravagant wedding, my emotional cup was full, overflowing even, which was confirmation that we'd made the right decision.
How To Deal With The Fear Of What Others Will Think
As for navigating the inevitable opinions of those around you, Dr. Polyné says the first step is to validate those feelings you're experiencing and normalize them. "You have a kind heart and want everyone to be happy and comfortable, and that's understandable that you would feel anxious about hitting that mark," she says. She adds that fully allowing yourself to feel those feelings makes it easier to stay firm on the boundaries you've set around your wedding plans.
Dr. Polyné also reminds us that if you receive negative reactions from others about your preferences, don't take them personally. "Living authentically will, unfortunately, lead to others feeling uncomfortable, which is the human experience," she says.
And lastly, don't feel pressured to explain why you chose to do things in certain ways unless it feels aligned for you. "For those who are generally supportive toward you and honestly interested in your decisions, it can feel good to share your decision process," Dr. Polyné says. "However, if your intuition is telling you that sharing the information will make you feel uncomfortable or stressed, that might signal for you that you are pushing past your own emotional safety boundaries, and it could be more helpful to keep your decision process to those who support you, without condition."