Want To Work Out In A Barbie Dreamhouse?
This new LA-based class is your chance.
@piinkpilates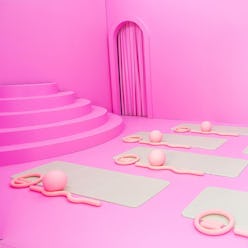 "Honey, Barbie is a lifestyle—and it's a lifestyle I've been living for years," says Chrissa "Sparkles" Villanueva, founder of PiinkPilates, a new mat-Pilates-meets-HIIT workout that operates out of a pop-up studio in downtown Los Angeles. After stepping inside the Pepto-pink space outfitted with vinyl curtains, a heart-shaped disco ball, and ambient rose lighting there's no doubt that Villanueva is fully committed IRL to the role that Margot Robbie merely plays on screen in Greta Gerwig's Barbie movie. "I want to transport people to the inside of my brain, which is basically a Barbie Dreamhouse," she adds.
That said, don't be deceived by the setting reminiscent of Dance! Workout With Barbie, the 1992 VHS that lured unsuspecting seven-year-olds like me into 25 minutes of aerobic exercise with star-spangled leotards, a stop-motion Barbie, and a young Jennifer Love Hewitt in Reebok Pumps. Expect to hit the mat hard during this class designed to build your core — all while listening to bangers from Megan Thee Stallion, Doja Cat, and Charli XCX on blast. PiinkPilates combines strength training (using both your body weight and cotton-candy-colored Bala equipment) with short bursts of high-intensity cardio to keep your heart rate up from beginning to end.
Planks, lunges, double-leg lifts, squats, box jumps, and burpees are all on deck during this 45-minute class. Thankfully, the Polly Pocket-esque decor and Foo-Foo, Villanueva's three-legged toy poodle, serve as a distraction from the sweat dripping down your back. "I've struggled with ADHD my entire life but it's my superpower when it comes to my workouts," she says. "PiinkPilates is very fast-paced in comparison to traditional mat Pilates and the time goes by quickly when you mix it up." The fantasy continues after the cool down when attendees can capture content and snap photos inside a supersized Barbie box. Pics or it didn't happen, right?
"I love that people underestimate this workout because of how cute the space is and they make the same assumptions about me as an instructor," says Villanueva, who often pairs her pastel fits with a perky side pony that would make Stephanie Tanner from Full House proud and poofy bangs inspired by Ashley Banks from The Fresh Prince of Bel-Air. "I don't exactly present [myself] as someone who would hand your ass to you on a silver platter." Simply put, you can't judge a book — or in this case, a real-life Barbie and her fitness prowess — by its cover.
For Villanueva, it's Barbie's ability "to change whoever you want to be any given time" that she strives to propagate via PiinkPilates — not her problematic plastic proportions that have thankfully begun to shift in recent years. "As a first-generation Filipino American, Barbie represented the American dream," she says. "It wasn't her physicality that affected me as a child as much as the fact that she could be a veterinarian, a pilot, and a supermodel." Villanueva — who moonlights as a clothing designer, content creator, and comedian — is undoubtedly following in the icon's perpetually elevated footsteps. And when life recently handed her a bushel of lemons, she did as any Barbie would do and made hot-pink lemonade to pay the rent.
"PiinkPilates is the product of going through a divorce, rediscovering my identity, and leaning into the things that bring me joy," says Villanueva, who branched out on her own in March after teaching at other LA fitness studios for the past decade. (After all, Builder Barbie was perfectly capable of constructing her own damn Dreamhouse without Ken getting in the way.) "At this point in my life, Barbie represents power, self-acceptance, and living life however you want," she adds.
Her goal is to spread this BBE (Big Barbie Energy) to every Skipper, Midge, Christie, and Allan who joins the party. "You can dress cute for your workout, take photos, bring your friends for a hang, and escape into a fantasy world where you can focus on yourself," Villanueva says. "I want people coming out drenched with sparkle."