These Mood-Enhancing Drinks Are The Perfect Pick-Me-Up
@kineuphorics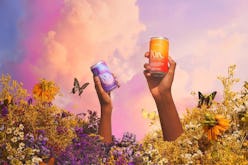 We may receive a portion of sales if you purchase a product through a link in this article.
We've all been through it. That notoriously gloomy time of the year when 40-degree weather is accompanied by dull cloudy skies, bare trees, and even better, a touch of that pesky seasonal affective disorder (SAD). And even if your doldrums aren't as intense — or season-specific — as something like SAD, they can still take a toll on your energy and motivation. Luckily, there's an influx of mood-enhancing products aiming to elevate your mind — particularly in the drink sector.
No, we're not talking booze. Yes, wine and other alcoholic spirits have their place and can be helpful in allowing one to unwind a bit, but the latest wellness elixirs promote chill, sans hangover. So, if you're coming off of a stressful day at work, getting overwhelmed about an upcoming event, or simply feeling tense and moody because, well, life, a nice adaptogen- and botanical-infused drink could be just the ticket.
And, as mentioned before, the options are truly endless these days. From viral sips like Recess and Kin Euphorics to the more under-the-radar Taiko and Heywell, these non-alcoholic happiness-promoting cocktails are more popular than ever.
So, if you're ready to stock your fridge, ahead, 10 of the best mood-lifting drinks to keep on hand when any kind of blues roll around.