A Runner's High In A Bottle? Here's How I Felt Using It
Taking Joggy's tincture for a spin.
Joggy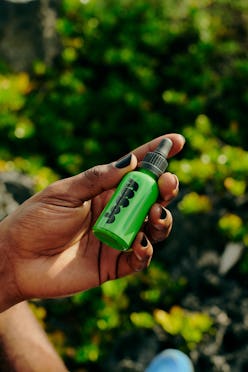 We may receive a portion of sales if you purchase a product through a link in this article.
It's usually around the six-mile mark when my body enters a state of bliss. The runner's high, a buzz through the body and a sense of mental serenity that comes following intense exercise. But, when I discovered that Joggy's Runner's High, an energizing tincture launched in April 2022 by Outdoor Voices' founder Ty Haney was attempting to encapsulate that feeling into a bottle, I was curious to see how I could kick off that euphoria before I even started my jog.
I still feel a bit averse to calling myself a runner. To me, this title applies to a pro athlete — training for marathons or waking up early for track workouts — someone who trains to compete. I'm not a competitor. I exercise for stress relief, for time outdoors, and for fun. And yet, my Nike Running app says I've logged some 2,665 miles over the last nine years, a sure sign that indeed I am doing plenty of running. Through IT band injuries and a stress fracture (both unfortunately common injuries), I've become a slower runner over the years, logging fewer miles per outing, often missing a out on the opportunity to end a session with that elusive bliss.
Which brings us back to Joggy. To mimic the subtle exhilaration from exercise, the brand utilizes CBD, THCV, and Alpha Pinene, aiming to avoid the jitteriness of more traditional stimulants. "Our founder Ty Haney started experimenting with cannabinoid supplementation during exercise," says Ashley Muir Davies, the brand's head of community. While there are a glut of CBD products on the market, typically designed for sleep, skin care, and even sexual lubrication, this was the first that I'd found that was designed to give you a boost when exercising (as opposed to calming and soothing, for which benefits ingredients like CBD are often reserved).
Ahead, I break down the buzzy new addition to the ever-growing CBD world and my personal experience with Joggy's Runner's High.
Fast Facts
Price: $75
Size: 1 fl oz
Clean/Cruelty-Free: Yes
Best For: Those who want a natural boost of energy
Ingredient Highlights: CBD, THCV, and Alpha Pinene
What We Like: Quick-acting; happy, relaxed feeling when running
What We Don't Like: Taste
Rating: 3.5/5
How TZR Keeps Score: 1/5: Making a return; 2/5: Keeping as a backup; 3/5: Finishing to the last drop; 4/5: Recommending to my group texts; 5/5: Already on auto-replenish
The Science
So what is it exactly that makes the product work? Runner's High uses a water-based lipid encapsulation (instead of oil-based) which helps deliver the CBD more quickly. The brand recommends taking the product 30 minutes before exercise, though I found that 15 to 20 minutes was enough time for me. THC-V, a non-psycho-active "energy boosting" cannabinoid-derived compound, is used in addition to full-spectrum CBD which includes a range of plant compounds (CBD, trace THC, terpenes, and flavonoids) used to help increase focus and attention. "This isn't designed to be a caffeine replacement, so you won't get the same spike and crash that you would from a cup of coffee," says Muir Davies. Early studies are exploring how CBD can impact VO2 max and levels of pleasure when running, and THC-V (which is a separate cannabinoid from THC) has energizing properties, and won't leave you sluggish. Also used is Alpha Pinene, a terpenoid found in many aromatic plants like cannabis, pine, and rosemary with anti-inflammatory properties.
Understanding exactly what causes a runner's high is still evolving scientifically, but studies have begun attributing that feeling not to serotonin as once believed but to endocannabinoids. The Endocannabinoid System (ECS) is a network through the body and brain with receptors that regulate the levels of neurotransmitters, "a bridge between the body and mind" according to a 2013 study in the Cerebrum Journal.
The Process
When the product arrived at my home, a small neon green jar, the branding reminded me more of a nod to '90s Nickelodeon than the approachable pastel or neutral millennial aesthetic presentation of many cannabinoid products. I pulled out the dropper to find the liquid to be viscous and milky. I dripped a single dose, one dropper full, onto my tongue and the taste was bitter and earthy (unsurprisingly, weed-esque). The decision not to mask the taste was intentionally made by the brand in an effort to minimize additives. "We experimented with flavoring, but it was difficult to mask the bitterness of the natural ingredients without adding sugar so we ultimately decided to leave it unflavored," Muir Davies says. While the taste faded within a minute or two, a bite of banana or a few sips of juice helped on the occasions I wanted it gone faster.
Once I started my run — a five-mile loop that I run often around Brooklyn's Prospect Park — I found that while my pace remained similar to what I might normally run, my attention was less focused on the run itself. Generally, I prefer to distract myself during runs by listening to a podcast or high-tempo music to keep my energy up and my mind off of the mechanics of the activity.
With Joggy, I found myself needing to turn the music down, as I entered a slight sensory overload. My mind focused on the dappled late-afternoon light in the trees or the way my breath sounded as I slowly drew air in and out through my nose. I was both more present in my run and more removed from the technical inner narrative reminding me how long I had to go, how many miles I'd run, and how quickly I moved up each hill.
The feelings were enjoyable — though over my times using Runner's High I felt occasionally disconcerted feeling the "focused buzz" described by Muir Davies. I was tuned in, but not always to the running itself — sometimes to the sound of my feet or a tree in my periphery. At times I might lose track of my ability to keep pace, but I'd end the run feeling energized, with fewer walking breaks and a similar (if not slightly faster) pace than when I run without.
While it may not be something I choose to use every time I run, it's a new weapon in my arsenal that offers a different sensation and experience. I enjoyed the sensations I felt when using Runner's High, but I'd probably break it out on days when I was having trouble finding the motivation to get out of the door. For everyday runs that are more about a quick routine jog through the neighborhood, it simply wouldn't be necessary. While I wouldn't say that it recreated that exact buzz of post-run euphoria, it put me into a flow that was its own kind of runner's high — albeit a new one for me.
Takeaways
I would recommend Joggy for longer-distance runners or runners who tend to get bored or find their minds wandering and want a little boost of energy. If you're training for a race or are a runner who wants to focus on consistent times while in motion, it might be distracting. As someone who generally goes through both periods of elation and misery on any given run, I find that Joggy helps tip the scale towards joy — and for that, I'd suggest it for recreational runners looking for more fun in their exercise.