Rocky Barnes Says This Juice Cleanse Is Perfect For A Post-Holiday Reset
@rocky_barnes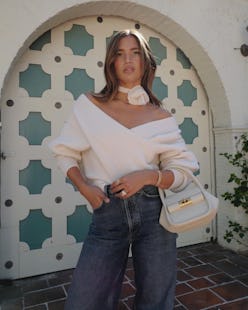 We may receive a portion of sales if you purchase a product through a link in this article.
Sometimes it's the smallest changes that can make a big impact. This rings especially true when it comes to one's health. In TZR's series Step-By-Step, tastemakers speak to the minor moves that can lead to mighty changes.
One would think that living in a city like Los Angeles — known for its innovative fitness scene, healthy haute cuisine, and juice bars on every corner — that staying well from the inside and out is a bit easier than other parts of the world. But, in reality, like everyone else, Angelenos are also susceptible to things like stress, busy work, personal schedules, and a general lack of motivation. Just ask LA-based content creator Rocky Barnes who says juggling motherhood (she has two boys under the age of 4) and constant travel — not to mention a looming indulgent holiday season — can make sticking to a healthy diet and workout routine inconsistent at best.
But, ever the Southern California girl, Barnes touts the power of a good juice and clean eating detox a few times a year to give her body a much-needed reset. "My favorite thing about [it] is really the mental state it puts you in," says Barnes, who notes Pressed Juicery's week-long program as a favorite of hers. "I feel like when I wake up and I am so busy with the kids, I'll just have a bagel, and then it kind of snowballs into the rest of the day. You're like, oh, whatever, I've already had not a healthy breakfast, let's just keep it going. But when you really start your day with health conscious products, it really kind of keeps you on track for the rest of the day."
After trying "every cleanse under the sun," Barnes says Pressed's juices combined with a mostly raw food cleanse, recommended by her doctor, have been the most feasible detoxes for her lifestyle. "Mainly, we cut dairy and gluten and a lot of root vegetables with high sugar," says the influencer of her specific approach, which she implements after particularly indulgent seasons, like summer travel or the winter holidays. The combination of whole foods and nutrient-rich drinks alleviates feelings of deprivation and fatigue, which are common in many extreme cleanses and detox programs. "You're not going to crash from [this], it kind of gives you a true reset and you no longer have the sugar cravings," adds Barnes. "You see all the benefits of [improving] deep bloating and inflammation."
The content creator says she and her husband are also big on supplements and IV drip therapy, particularly the buzzy NAD+ treatments, which are said to help improve everything from mental clarity and energy levels to mood elevation and feelings of depression and anxiety. "NAD is cellular rejuvenation and it kind of attacks cells that need rebuilding in your body," says Barnes. "There's a lot of supplements that deliver it, and then the IV therapy, which is way more intense in terms of benefit. It gives you mental clarity as well."
And while a good old consistent workout routine can likely help with these things as well, those are harder to come by these days for Barnes, who says she's "become less of a priority" since becoming a mother. But when she does squeeze in a workout — she loves a good yoga or Pilates class — she goes hard. "I feel like I don't exercise as much, but when I do it's just way more intentional and focused," she says. "I'm not just showing up if I'm not giving it 150% anymore. When I do have the time to work out, I am maximizing it to its fullest potential. But I think right now at the stage I am in with my kids — they're one and a half and three and a half — I'm also carrying around like 30-pound weights all day long."