50 Cool, Cheap Things On Amazon That Actually Look Expensive
No one would guess they all cost less than $40.
Amazon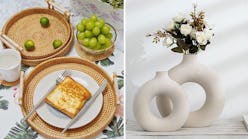 We may receive a portion of sales if you purchase a product through a link in this article.
Looking for a spot of shopping therapy? You've come to the right place. Ranging from home décor and kitchen gadgets to high-performance makeup and designer-inspired accessories, this list of cool, cheap things on Amazon that actually look expensive will scratch your shopping itch. And since thousands of reviewers claim that these things look, feel, and perform way better than their price tags would suggest, any impulse purchases that may occur will result in bliss, not guilt. From trendy pillows to a pair of earrings that no one would guess aren't made of real diamonds (including you), scroll on to discover 50 seriously impressive products.