Zoya's One-Day Cyber Monday Sale Is The Nail Polish Deal You Can't Miss
Zoya/Instagram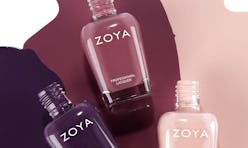 In the modern world of Cyber Week shopping, a one-day-only sale is virtually unheard of come end of November. For most brands, Black Friday blurs into Cyber Monday, which continues on, days after the clock strikes midnight Monday evening. Still, there's a certain excitement and exclusivity to a deal that only lasts for 24 hours — you have to be in the know. So, here's the scoop: Zoya's Cyber Monday 2019 Sale is, in fact, a traditional Cyber Monday sale. It only takes place on one day; Dec. 2, to be exact.
But it's well worth setting a calendar reminder. On Cyber Monday, Zoya will be offering 50 percent off site wide. All you have to do is type in the promo code CYBER19, and you'll be able to unlock the deal. This means you'll be able to score Zoya's regularly $10 nail polish for around $5 a pop, give or take some change for tax. It's a steal for Zoya's fan-favorite formula — which has garnered awards and appeared on the red carpet.
And the $5 price tag is even more tempting when you consider the fact that the nail polishes are formulated without what Zoya considers the "Big 10": formaldehyde, formaldehyde resin, dibutyl phthalate, toluene, camphor, TPHP, parabens, xylene, ethyl tosylamide, and lead.
Already know you can't make it to Zoya's website on Monday? Its Black Friday sale is just as excellent, and has a little more wiggle room timing wise. Just type in the promo code BLKFRDY19 sometime before 11:59 p.m. ET on Nov. 30, and you'll score a buy two, get two colors free deal according to the brand's website. And, if you buy a third nail color, you'll receive three complimentary Z-Wide Brushes, too — Zoya's larger, time-saving nail brush.
Whether you shop Black Friday or Cyber Monday, continue scrolling. Below are eight Zoya nail colors to consider adding to your cart.