Zooey Deschanel Just Went Blonde & You'll Want To Copy Her Exact Color
Albert L. Ortega/Getty Images Entertainment/Getty Images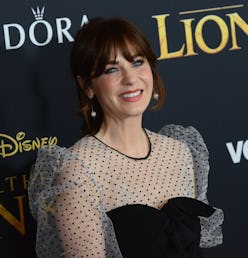 Actress and singer Zooey Deschanel has a thing for Christmas. Not only did she star is one of the most beloved Christmas movies of the early aughts, Elf, but her 2011 holiday album with M. Ward (the other half of Deschanel's musical duo She & Him) covers just about every festive classic that Christmas enthusiasts could hope to hear. And if there were something else the actress decidedly has a thing for? It'd be her deep brown locks, which she's stayed ever loyal to — except during her 2003 Elf appearance that took her lighter. That is, until Zooey Deschanel's new blonde hair marked an unexpected comeback of the look.
It's already been a busy holiday season for Deschanel, who recently performed alongside singer Kacey Musgraves during The Kacey Musgraves Christmas Show that premiered on Amazon Prime on Nov. 29. On top of that, she's just kicked off a traveling Christmas show of her own as She & Him goes on tour with their Christmas Party concert. But somehow, she still found time amongst the holiday hustle to make a subtle yet significant change to her mane.
The singing star showed off the fresh look in a video post on her Instagram on Dec. 3, in which she's rehearsing for the holiday tour before its first show in Philadelphia. And while her stunning vocals certainly steal the show, it's hard to ignore the change to Deschanel's hair.
Sure, it's not quite as bright and blonde as it was during her stint as Jovie in Will Ferrell's crowd-favorite Christmas movie, but it's certainly a lightened up iteration of her usually-rich brown locks. The caramel-blonde color, which looks ultra warm under the rehearsal space's lights, is an unexpected yet welcome change for Deschanel that's perfectly timed for her wintertime tour.
As she moves the camera around while singing a cover of the classic tune "I'll Be Home For Christmas", you can get a better peek at the updated color — and you can see that she's kept her style otherwise the same. Her telltale face-framing bangs and softly curled layers remain intact, proving that a strategic color change alone can make a big difference. In fact, the sun-kissed color could be enough to keep her warm all season long.
Feeling inspired to lighten up ahead of the holidays? You'll need these hair care essentials on hand to help preserve the look through the New Year.
Shop The Look