Zoey Deutch's Golden Globes Dress Looked SO Different On The Runway
ETIENNE LAURENT/EPA-EFE/Shutterstock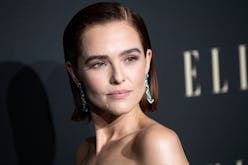 Amongst a dazzling display of pastel gowns and black-and-white numbers, Zoey Deutch's 2020 Golden Globes dress stood out. For one, there was the color — the deep, thrilling gold popped on the red carpet (and looked perfectly on theme for the, well, Golden Globes). Then, there was the fact that it wasn't actually a dress at all. "Zoey's stunning custom couture Fendi jumpsuit is such a beautiful modern interpretation of a red carpet gown," reads a quote from makeup artist Fiona Stiles, who created Deutch's Chantecaille beauty look for the evening, in a press email.
Key word there being custom. Though if you are suddenly on the hunt for a dramatic Fendi jumpsuit, look no further than the house's Fall 2019 Couture collection, which featured a very similar piece to the star's red-carpet ensemble. With structural elements like the sleeves and deep V-neck in common, the Fendi couture piece was black (rather than gold), with intricate detailing covering the front.
Besides the apparent differences, the red-carpet styling couldn't be more different than how Fendi presented the piece. On the runway, the model wore '60s-inspired hair (complete with mod bangs) and barely an accessory in sight, save for what looks to be a few rings. On the other hand — no pun intended — Deutch wore multiple rings, eye-catching earrings, and a dramatic necklace decked out in more than 110 carats of diamonds and sapphires, according to the jewelry brand Harry Winston.
And yes, even Deutch's hair was styled differently. Celebrity hairstylist Gregory Russell shared a snapshot of The Politician actor's modern, pulled-back style on his Instagram account — something that contrasted sharply with the Fendi show's face-framing look. "Sleek and Chic for the very beautiful @zoeydeutch today attending the #GoldenGlobes using @dove," he captioned the post.
The hair and classic makeup look were created hand in hand, as well. "Gregory Russell and I were looking at old Scavullo photos from the late 1970s that telegraphed ease and glamour, and this was my inspiration for the beauty look," Stiles continued.
And while you'll have to watch the awards show to see if The Politician scores the Best Television Series - Musical or Comedy win, it's safe to say that Deutch's look (and stunning jumpsuit) will be talked about well after the night has come to a close.