Zara Just Dropped The Third Installment Of Its SRPLS Collection & It's Got Your Fall Wardrobe On Lock
ZARA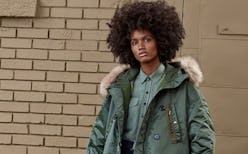 In any good story, a new chapter evolves what came before, gives you something new, and hopefully leaves you wanting more. That said, when it comes to Zara's SRPLS collection, the fashion-girl favorite retailer is creating a real page-turner (as in, you won't be able to stop clicking through the product). Almost one year after launching its first lineup of styles, Zara SRPLS CLLCTN 3 has now been unveiled — and it's filled with fall-ready pieces that are sure to fly off the shelves in no time.
For the third installment of SRPLS, the retailer is taking its range of streetwear with a military twist to the next level. Introducing new statement proportions, trims, colors, and fabrics into the limited-edition drops (there are three each season), the first drop of this collection feels arguably the most elevated yet.
In the mix you'll find everything from relaxed pants and structured dresses to this must-have flight-suit for $149; however, it's the long-line skirts (like this navy belted style for $99.90) that really bring a tailored touch to the military-inspired lineup. Match up the aforementioned midi-skirt with this cozy, color-block knit for $99.90, or consider zipping into this short, fitted nylon parka, $199, when the weather turns frosty.
Speaking of parkas, the outerwear within this collection is not to be missed. With everything from a slouchy, fleece-detailed bomber jacket, $149, and a knee-length, camouflage-print fleece coat, $229, to a $249 long, quilted down jacket up for grabs, you can bring a fashion-forward military feel into your look in a variety of ways while you also keep warm.
As for the accessories? If you're on the hunt for a combat boot, look no further than Zara's glossy black, platform style. Ringing in for $249, this version of the on-trend boot silhouette will let you bring the tough, edgy vibes into your outfit in a super-sleek way. Plus, these versatile showstoppers will look just as chic styled with this pair of cropped, patchwork pants, $119, as they will with this mini shirt dress for $99.
Continue on to see the latest pieces from Zara's SRPLS collection, and head over to the site to view the rest of the offerings before it's all gone.