I Got An Early Look At Zara's New Collection & Here's What's Going To Sell Out
Courtesy of Zara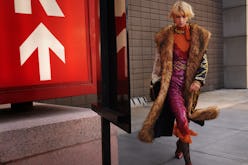 Eagle-eyed Zara fans already know that the brand releases its much-anticipated Zara Campaign Collection twice a year to coincide with the fashion calendar, but there's another reason it's the brand's most compelling drop: The collection gets its own dedicated campaign that's chock full of inventive styling tips for the new season; it's made with higher quality fabrics like wool and leather; and it's known to sell out in a matter of days. The designers for Campaign are also given a considerable amount of creative freedom: While the designs for Zara Woman are largely based on current trends and what customers are loving, the pieces for this bi-annual collection tend to eschew that kind of inspiration. Instead, they're something made almost entirely from a story the designers create themselves.
"Of course there is Instagram; there's all the fall images. So we're not totally blind to the outside," the design team explains when asked where they find inspiration. "For this, it's a story totally independent. It's more about what kind of woman we'd like to dress, and then we start to draw the story for this kind of woman."
This season, that woman is Catherine Deneuve-like — she's French, and she throws everything together with an always effortless result. I got the chance to see the final collection before it hit stores at Zara's headquarters in A Coruña, Spain on a press trip with with the brand, and upon first look I noticed that the inspiration shows through quite obviously. The colors are bright, the silhouettes unexpected, the jewelry oversized, and it all comes together for a chic, chaotic mix that looks surprisingly expensive (considering its prices).
Of course, with such a thoughtful, edited mixture of pieces, it can feel impossible to choose which ones are worth adding to cart. And while every design has its own special qualities, there are a few that definitely deserve a second look. My personal favorite piece — for aesthetics alone — is the $169 Contrasting Lace Dress, which was silky, romantic piece that I can easily see myself wearing to holiday parties with a blazer and heels.
Another standout is the Pinstripe Pants With Skirt that are an affordable $119; the Zara team explains that the piece features the bottom of the jacket at the top of the trousers, which embodies the collection's theme of throwing everything together and provides an easy way to dress up a t-shirt or put a twist on the classic pantsuit. And I'd be remiss not to mention the Belted Double Trench Coat for $249, which is an unexpected (and warmer) take on the staple thanks to the double layer of the piece.
It's worth noting that the Campaign Collection's launch isn't the only recent Zara news customers should be aware of right now, though. The brand announced Inditex's (Zara's parent company) global sustainability commitments earlier this year, which included several lofty goals. The company explained in a press release that "by 2025, 100% of the cotton, linen, and polyester used by all eight of its brands will be organic, sustainable, or recycled."
Additionally, Zara, Zara Home, Massimo Dutti, and Uterqüe have already stopped using plastic bags in its stores completely, and the rest of Inditex's brands are set to follow their leads by 2020 by gradually replacing them with bags made from 100 percent recycled and reusable paper, according to Inditex's website.
That said, the brand still has a long way to go. It's important not to forget Zara's enormous production volume: According to Business of Fashion, "On average, Zara releases 500 new designs a week, 20,000 a year." Though Business of Fashion also notes in the same article that "the company doesn't see its business model at odds with sustainability goals," it's impossible to ignore the fact that these numbers mean Zara is producing an enormous amount of trend-driven pieces each year — which often means customers won't want to hang onto each piece for long, considering many go out of style within months of purchase. So while these goals are laudable, it doesn't change the reality that much of the clothing the brand produces still inevitably contributes to waste.
Though you probably don't need yet another reason to shop the brand, this might make you add a few of the newest pieces to cart a little faster: The Zara team says that once a product is sold out, the brand never remakes it in exactly the same way (though it can return in different iterations). So keep scrolling to see a few of my must-haves from the new Campaign Collection — because once they're gone, you'll never see these exact pieces again.